ALEXANDRIA RADIO CLUB
FCC LICENSE SCHOOL
DIGITAL REGISTRATION FORM
(Spring 2021 Class Schedule)

First Class Date: Each Tuesday, March 2nd 2021 (tentative start).
The required FCC Exam will be given on the last session on May 11th 2021.
Class Start Time: 1900 hours until 2100 hours (7:00 PM to 9:00 PM)
Teaching Site: Alexandria Police Department Headquarters, 3600 Wheeler Ave, Alexandria, VA (Just off Duke Street about 1 block west of Quaker Lane) (Changed to Zoom Meetings)
Cost: ARRL License Manual $30.00 + FCC Exam Fee $15.00 + Class Material $5.00 = $50.00. We prefer cash or checks at the first class since PayPal charges us transaction fees.
Rich is assisted by a cadre of instructors who were electronic and communications specialists in local industry and/or military training centers. All are Extra Class licensees and several have commercial FCC licenses.
The FCC License Class Syllabus covers 400 question topics from which 35 pool questions make up the license exam. Classes incorporate ARRL PowerPoint Topics & Film Clips portraying the historical evolution of radio communications. License practice exam questions are available on the Internet.
Learning International Morse Code is NOT an FCC license requirement, but is highly encouraged.
FCC Title 47 Telecommunications, Part 97 Amateur Radio Service
Your FCC Registration Number (FRN) You must have an FRN assigned prior to the exam.
Review of ARC License School
by Rich KA4GFY, Coordinator for Ham License Training
Facility instructor Rick Bunn asked me to review some of the training methods used to study for amateur radio license. I may be biased, but I think a class is by far the best way to do this, because you get the interaction with experienced hams that can help you with those tricky questions that always seem to come up. My philosophy is I would rather teach the student material so they have an understanding of what they need to know, rather than teaching the questions and the right answers to the questions. If you have ever wondered why our classes are spread over several weeks rather than a weekend or even a few weeks, now you know. As for the book, we use the ARRL's Ham Radio License Manual, while other instructors use Gordon West's book. Both are good books for the classroom.
For the student who doesn't want to commit to one night a week for several weeks, there is the occasional weekend class. To put it mildly, this is like trying to take a drink from a fully charged fire hose. It's a lot of information over two or even one day. I can't imagine anyone learns much other than the questions and some of the right answers. Weekend courses require advance preparation by the student and a lot of preparation by the instructors. We tried it once and came to the conclusion the students didn't get much out of it. In looking at the ARRL's listing of classes, I find fewer and fewer classes being taught over one weekend. I am seeing some taught over a few weekends.
As with everything else these days, the internet is a place many people go to do their studying. ARRL has an on-line Technician class as part of their suite of continuing education courses. This class uses the Ham Radio License Manual, but the student is paired with a mentor, who is there to guide the student through the material and answer questions. There is no set day and time to meet, its all done via email. However, the student does have a set time limit to complete the class. If you have ever done any of the ARRL emergency communications courses, this is the same format, and it does work very well.
I periodically see a prospective ham showing up on some of the radio websites asking where/how they should get started on studying for a ham license. As you can imagine, the answers are as different as can be. Some people point them to the license class lookup section of the ARRL's website and some are pointed to the multitude of on-line "study" websites. For the most part, these appear to be websites where they fire a bunch of questions at you and keep score. Some of the ones you pay real money for will keep track of your score and keep firing questions from your problem areas until you figure out the right answer by process of elimination. You don't learn much, other than the questions and the right answer. You often don't know why it's the right answer. As you can tell, I am not a fan of these websites. They are fine as a supplement, i.e., a way to get some experience at seeing the questions and getting an idea of how you might do on the real test.
There is at least one class that is taught as a podcast. You can download this week's class into your ipod or smartphone and listen in to the instructors go through the material. I don't really know much about them, I don't know anybody who has ever used one. Again, I don't know how the student can ask questions to the instructor.
Not all formats work for every student. If you tried one format and it didn't work, don't give on on becoming a ham, try another. Getting a license has never been easier with the different study methods out there.
VE Team at testing sesion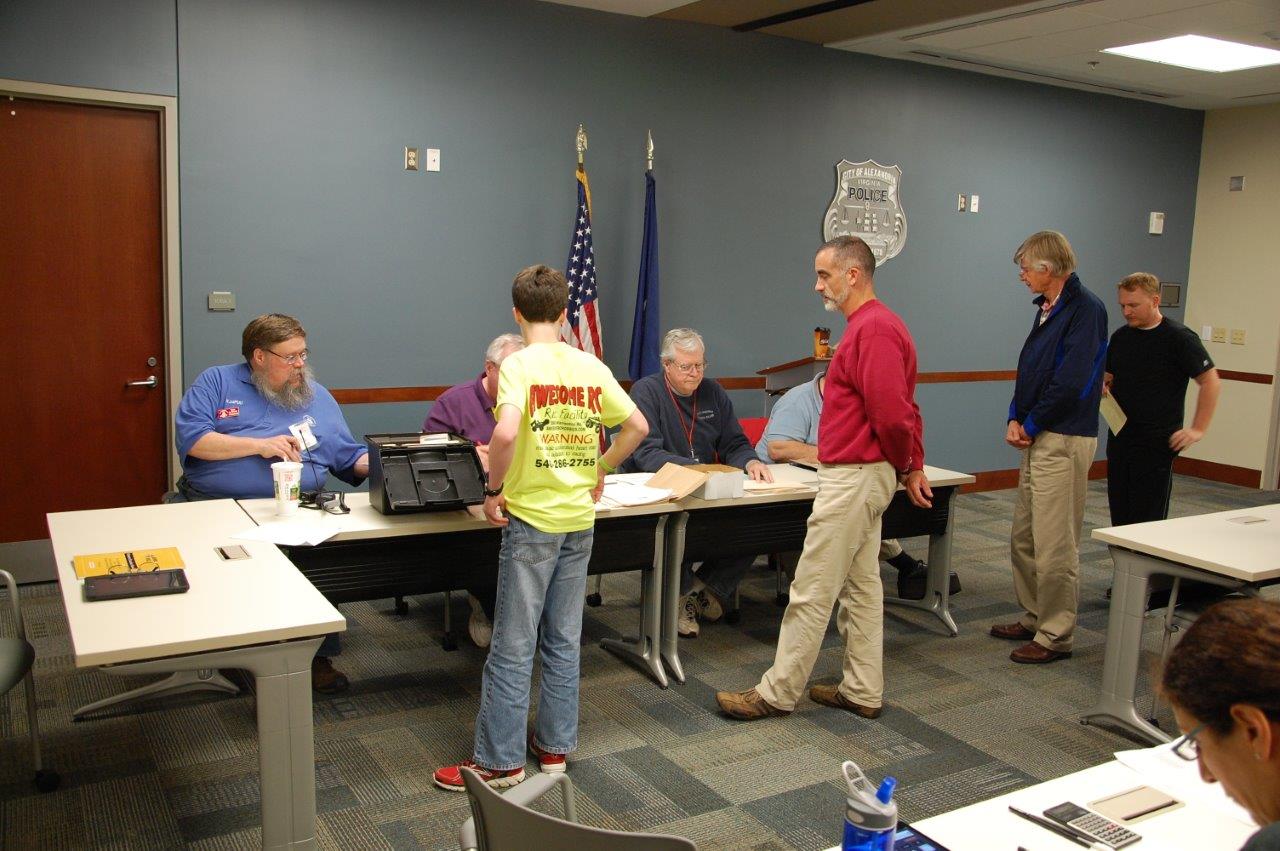 Congrats to all Spring 2014 student class graduates and welcome to ham radio.
Call signs assigned:
Ian KM4BIG
Juan KM4BII
Peter KM4BIK
John KM4BIL
Michael KM4BIM
Harry KM4BIO
Mari N4RIO
Eric K0GV
Robert KM4BIN
Theresa KM4BIQ
Ferdinand KC3CVO
Upgrade:
Ed N7HRZ
Congrats to all Spring 2013 student class members and welcome to ham radio. Call signs assigned on Friday, May 10, 2013:
Rima Azzam KC3AOQ
Joshua Salpeter KC3AON
Hala Azzam KC3AOP
Paul Davis KK4RAW
Patrica Gabaldoni Inurritegul KK4RAV
Dennis Albrecht KK4RAX
Maxwell Albrecht KK4RAZ
John Hucke KK4RBB
David Cloft KK4RBA
Thomas Cole KC3AOR
Bjorn Jemudd KC3AOO
Congrats to all Fall 2012 student class members and welcome to ham radio. We had our most successful VE session in years last night! 15 candidates without licenses became 12 Technicians and 3 Generals! Best of all, Ryan – 8 years old – is our youngest Tech ever.
Thanks to all the VEs who helped and our treasurer W9TCE. VEs were: KA4GFY, N4ASX, KJ4FUU, KI4MWP, N4CWP, N8IK
Groves, Jeffery C KK4NMN
Watson, Charles B KK4NMO
Dundzila, Tomas A KK4NMP
Klee, Ryan R KK4NMQ
Klee, Shannon N KK4NMR
McGhee, Timothy KK4NMS
Drake, Sara K KK4NMT
Jorjorian, Adam D KK4NMU
Ruggieri, James A KK4NMV
Summers, Matthew KK4NMW
Gregor, Jeanne L KB3ZTE
Weston, Ian P KB3ZTF
Toth, David C KB3ZTG
Mann, Christopher E KB3ZTH
Popiolek, Marie D KK6BKG
Congratulations to new ham radio operators and upgrade licensees of Spring 2012 FCC training classes/testing session!
Marshall DeBerry KI4MWP Club President and other members of the Alexandria Radio Club extend their congratulations to newly licensed members and instructors effective May 31, 2012:
Name Call sign New class
Vernon Olson KK4JQM Technician
Mathew A. Kirleis KK4JQN Technician
Dwight A. Nichols KK4JQO Technician
Paul L. Diaz K4JQP Technician
David M. Wilburn KK4JQQ General
Edward J. Bradshaw KK4JQR General
Donghai Yu KB3YUN Technician
James G. Kincheloe KL3IA General
Matthew W. Genack KI4STB Extra