All DMRVA talkgroups are available. DMR IS UP AND RUNNING 442.4125 +5Mhz Color Code 1
Alexandria Radio Club (ARC)

# # # # #
---
Field Day 2019 Report by Chairman Don KI4D it was a gorgeous weather weekend with over 70 members and guests participating with smiles. Please upload additional photos for GIF update at: https://photos.app.goo.gl/GNnGTjp5V7N232ih9
---
ALEXANDRIA RADIO CLUB
FCC LICENSE SCHOOL


DIGITAL REGISTRATION FORM


(Spring 2021 Class Schedule)
REGISTRATION NOW CLOSED

First Class Date: Each Tuesday, beginning March 23, 2021.
The required FCC Exam will be given on the last session on May 25th 2021.
Class Start Time: 1900 hours until 2100 hours (7:00 PM to 9:00 PM)
Teaching Site: Alexandria Police Department Headquarters, 3600 Wheeler Ave, Alexandria, VA (Just off Duke Street about 1 block west of Quaker Lane) (Changed to Zoom Meetings)
Cost: ARRL License Manual $30.00 + FCC Exam Fee $15.00 + Class Material $5.00 = $50.00. We prefer cash or checks at the first class since PayPal charges us transaction fees.
---
FCC License School Coordinator: Rich Adamy, KA4GFY – contact Rich at (703) 969-6615 or ka4gfy@arrl.net for additional information. Rich is assisted by a cadre of instructors who are FCC Extra Class licensees and former industry and military communications specialists
The FCC License Class Syllabus covers 400 question topics from which 35 pool questions make up the license exam. Classes incorporate ARRL PowerPoint Topics & Film Clips portraying the historical evolution of radio communications. License practice exam questions are available on the Internet.
Learning International Morse Code is no longer an FCC license requirement, but is highly encouraged.
FCC Title 47 Telecommunications, Part 97 Amateur Radio Service
Your FCC Registration Number (FRN) You must have an FRN assigned prior to the exam.
ARC-SHORTS Newsletter
March 2021
---
Club Repeaters: 147.315+ (PL 107.2), 444.6 (PL107.2), 224.82 (PL107.2), 53.13 (PL107.2) 927.6 (-25Mhz, PL107.2), and 1282.600 (PL 107.2), DSTAR 145.38Mhz, 442.060, and 1284.600 ( DMR IS UP AND RUNNING 442.4125 +5Mhz Color Code 1.)
PLEASE USE OUR REPEATERS.

Next Meeting
We are still holding our meetings via ZOOM. Don, KI4D will be sending out the meeting link this week. Same meeting time, SECOND FRIDAY of each month at 7PM LOCAL.
The March 12th ARC monthly meeting will feature Howard (WB2UZE) and Jim (W6JIM) of the Long Island CW Club on 'Learn & Have Fun with Morse Code'. As an indication of the popularity of the Long Island CW club activities, it has over 1400 members, worldwide. It is noteworthy that one of the best things about CW is that even Technician Class operators can operate worldwide CW on HF, with a minimal investment.
Last Meeting
Alexandria Radio Club
Meeting Minutes February 12, 2021
Our guest speaker for February 12, 2021 was Gordon Miller NQ4K, he briefed us on the 2021 Virginia QSO Party, he continues to encourage the submission of automated logs. The two recommended logging programs are N1MM and N3FJP
N1MM Logger is the world's most popular ham radio contest logging program. For CW, phone and digital modes, its combination of contest-optimized features is unmatched. N1MM is free to download.
The regular business reports were given to the members and accepted.
Each of the committees provided an updated status to the members.
Net control operators for the following dates are:
 February 18, 2021 Richard Adamy
 February 25, 2021 Ian Keith
 March 4, 2021 Rick Bunn
 March 11, 2021 Harry Jones
ALL members are invited to take a turn as Net Control.
We now have a D-Star Net on Wednesday evenings. We link our D-Star 2 meter repeater with REF062A so that those outside the area can participate.
HEARD ON THE NETS
KO4IIU Jimmy, just upgraded to Amateur EXTRA CLASS!
WD4ADF Bryan, has been acting as Net Control for a Net (over Echolink) in Alberta Canada.
K0RVW Ken, New member just getting into amateur radio. Welcome to Amateur Radio and the club. Ken also upgraded to General recently.
W4ODA Ken – New License, Welcome Ken!
Our second D-Star net include K4QFS Lane who is now in Guam and working HF on an R-9 vertical and about 500 watts, Look for him! Lane will be returning to the area in November.
Great turnout on the D-Star net! Ian is our Net Control and did a fantastic job. NCS is like herding cats.
PRESIDENT'S CORNER
Virginia continues to be under a state of emergency based on COVID-19, but as of February 24th has reduced restrictions with amended Executive Order 72. The amended order allows the maximum number of individuals permitted in a social gathering to increase from 10 to 25 people for outdoor settings, while remaining at 10 persons for indoor settings. The new guidelines will be effective for at least one month and mitigation measures may be eased further if key health metrics continue to improve according to the order. The latest general COVID-19 guidance from the state of Virginia is that it is still "Safer to Stay at Home" with advice to continue teleworking if possible, wash hands regularly, maintain six feet of physical distance when Aside of home, and get tested immediately if you have COVID-19 symptoms. Given the mixed set of indicators concerning reopening the economy and continued spread of COVID-19, Alexandria Radio Club leadership has not elected to recommend resumption of in-person club activities; we will continue with our virtual meetings using Zoom.
Thanks to Club members who have already paid dues for 2021! This note is mainly a reminder for those who renew club membership each year in January. For those who renew in months other than January and want to be pro-active or want to avoid the rush, you may also pay your renewal dues by January which will result in 12 months of membership being added to the date of your last dues payment. Membership dues is $25.00 per year, please see our website for more details. The easiest and quickest way to pay dues is via PayPal on the W4HFH website at https://w4hfh.org, or you may mail a check or money order to Alexandria Radio Club, Inc., P.O. Box 30721 , Alexandria, VA 22310.
This month, we are again delighted and fortunate to have new club members. We are welcoming new club members Ken van Wyk ( K0RVW), Derek Kelly, (WB4DAM) and Michael Osborne (KM4PR), who recently joined ARC. (Note Derek Kelly was a member of the club when I joined in 1978, RRB)
The ARC February 12th meeting featured a presentation by on Virginia QSO Party (2021) by Gordon Miller ( NQ4K). For many years, Gordon has traveled to Alexandria to brief the Alexandria Radio Club on the details of the upcoming annual Virginia QSO party. This year, the Virginia QSO Party will be held during the weekend of March 20-21st.
The ARC Leadership Group met on February 19th. The club leadership group consists of elected officers, committee chairs, and presidents emeritus. Several items were discussed including strategies for membership building and retention, maximizing the value of new at-large-Board Directors to ARC, fundraising ideas, adding tech roundtables of potential interest to new and old club members, updates to the ARC Club Officer's Guide, and maximizing repeater uses. The group discussed options for Field Day 2021 with plans for making a decision by May 1st on whether the club will have a virtual or in-person event in 2021 based on the COVID-19 outlook.
Winlink is an email system that provides worldwide email using radio pathways where the internet is not present. The system is built, operated, and administered entirely by licensed "Ham" volunteers. Currently, five members of the Alexandria Radio Club regularly maintain their proficiency using Winlink by checking into Winlink Wednesday every Wednesday. Credits to Rick Bunn (N4ASX), Rich Adamy (KA4GFY), Richard Morani (KW4UJ), Ryan Stinebiser (KO4EBY) and Don Lewis (KI4D) for maintaining their Winlink proficiency, a valuable capability in case emergencies. Special congratulations go out to Rick Bunn for logging over 100 Winlink sessions and earning the Winlink Century Award Certificate.
The list of upcoming club activities and presentations planned for 2021 is listed below. The Club also welcomes any ideas from club members for programs and activities in 2021. Please send your ideas to president@w4hfh.org.
ARC recorded Zoom meetings with featured presentations are located at https://drive.google.com/drive/folders/1MG9VUqKOWeoWEWt0oBwychbzh4qILqbI?usp=sharing.
Scheduled Activities and Presentations for 2021 updated as of February 1, 2020
 January 8th – ZOOM MEETING, Pentagon Radio Club MARS Operations by Gary
Sessums (KC5QCN)
 February 6th – (CANCELLED) FROSTFEST, Richmond, VA
 February 12th – ZOOM MEETING, VA QSO Party, Gordon Miller ( NQ4K)
 February 15th – (CANCELLED) George Washington Day Parade Participation
 March (Date) – License Classes begin, Ends May (Date)
 March 6th – St Patrick's Day Parade
 March 12th – ZOOM MEETING, Long Island CW Club, Howard Bernstein (WB2UZE)
 March 20-21th – VA QSO Party Weekend
 April 7th – ZOOM MEETING, FIELD DAY 2021 planning committee kickoff
 April 9th – ZOOM MEETING, West Mountain Radio, Mark Siegesmund (W9WMR)
 April 24th (VIRTUAL) WINTERFEST, Annandale, VA
 May 14th – ZOOM MEETING, Antenna Tuners:
 When do you need one, and how do they work?, Barry Feierman (K3EUI)
 May 21-23rd – (CANCELLED) HAMVENTION, Dayton,
 June 11th – ZOOM MEETING, FIELD DAY 2020 final briefing
 June 26-27th – FIELD DAY 2021 Weekend
 July 9th – ZOOM MEETING, AREDN, Joe Porcelli (KT3I)
 August 1st – Berryville HAMFEST, Berryville, VA
 August 13th – MEETING
 September 10th – MEETING, MCM Briefng, Howard Cunningham, (WD5DBC)
 October 8th – MEETING, History of ARC, Don Lewis (KI4D)
 October 31st – MARINE CORPS MARATHON
 November 12th – MEMBERSHIP MEETING, Elections
 December 10th – MEETING, Christmas party
Proposed Tech Roundtable Topics for 2021
(Panel of experienced club members and other discussing their experiences with the topics with Q&A.)
 Mobile installations
 Building a Go-kit for ARES
 Ham Activities for the Technician Class
 Handy talkies options, what kind, how much? Pros and Cons
 Portable ops (rigs, batteries, antennas, etc.)
 Starter Base Station Options
 Stealthy Antennas for city dwellers
 QSL Cards
 Getting Started with ECHOLINK
 Getting Started with Amateur Radio Satellite Communications
 Parks on the Air for Beginners
 Working with Repeaters
 Using NVIS
 Working with Digital modes
 Getting started with WINLINK
 Logging with N3FJP
 HF and Scanner monitoring for beginners
 A Club Member Shack Tour
 How to Build Raspberry Pi Hot Spots
Please stay safe with masks and keep up with your social distancing.
73 Don, KI4D
ARES
I will try to schedule for later in the year to provide more information on ARES operations in Alexandria. Below are a few points to think about.
1 – You do not need any special training to volunteer for ARES. However, after volunteering you will need to complete FEMA IS-100 via the internet and it takes about 30 minutes. There is a training plan if you want to learn more about emergency communications and management.
2 – If you do volunteer it is a commitment. We don't have to many real emergencies, but when we do, we need people we can count on.
3 – Volunteering across jurisdictions – Many volunteers when using the ARES Connect website volunteered for several organizations with the idea that they could keep tabs on all that was going on. The problem then is that several organizations believe that those volunteers are available to them in an emergency. ONLY volunteer for ONE ARES group!
4 – The majority of operations use 2 meter FM. One exception is here in Alexandria, the only way to support the hospital is with D-STAR. This is not an issue for some of our volunteers as the city has purchased 10 ID-51A HTs and 7 of them are not issued. Volunteers can borrow them and use them for a year at a time. Each year they need to be checked by the EC.
5 – ARES members are the first operators called for public service events like the G.W. Birthday Parade, Marine Corps Marathon, The St. Patrick's Day Parade, and other activities. Working public service activities is great training in all aspects of what we would do for an emergency.
6 – The public has a diverse view of amateur radio. Some understand that it's a hobby with the ability to perform great services in an emergency, but very rarely do we see amateur radio on the news. The other side is our antenna are not welcome in neighborhoods, we are accused of causing interference to commercial devices. Recently, amateur radio was tied in with the protests on January 6th at the Capital. Our image and support depend on the public opinion of our hobby. One might say that ARES and Public Service communications is one way to improve that image.
WinLink Wednesday
More and more of us are learning to use WINLINK 2000. Basically, it allows you to use amateur radio to send e-mail worldwide. Yes, this is via the internet, but the system can use radio relays in the event of an internet failure or your inability to use the internet. Winlink allows us to communicate without the internet worldwide. While our primary communications have been via voice communications, e-mail allows for more clarity and no loss of meaning between the sender and the receiver of traffic.
It is one thing to have this tool but if you don't practice with it you will not be able to use it effectively. To this end Greg Butler KW6GB, started WINLINK WEDNESDAY. ON the third Wednesday, you send a message using a form template. This helps when you need to send a form via WINLINK. Each Wednesday participants send him a simple message via WINLINK, and he keep a record of who, where and whether you are using VHF or HF. Most of us use 1200 baud packet and send our messages to Greg via a local WINLINK VHF gateway. The gateway forwards the traffic to Greg via a network of servers. Once you have participated for 100 Wednesdays, Greg sends out nice certificate.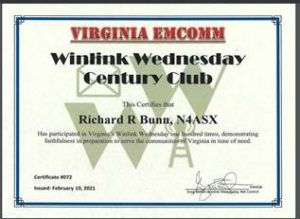 We have about 6 club members who have been participating. All you need is a packet TNC and a 2 meter FM radio to get started. You can also operate on HF using a few modes. First step is to download WINLINK RMS from the WINLINK website.
ELMER'S INPUTS
The Ft. Myers Club in Ft. Myers Florida has created a NEW HAM Quick Reference Guide.
Rich KA4GFY, found a similar publications from a Texas club. I think this would be a good thing for us to put together to provide to those who just past their Technician Level license test.
This is for NEW amateurs. A while back I recommended that all amateurs have a copy of three ARRL publications, one of which, was the Operations Manual. There are lots of little things that can help a new operator and we will try to put them together in a small booklet. As I have been in the hobby for 50 years, I would like to know what you think would be helpful to the new amateurs.
We will cover local clubs, repeaters, common Q-Signals, tips on learning and use Morse code (CW), some aspects of net procedure, hamfests, public service and ARES activities, club activities etc. Please feel free to send Rick, N4ASX@COX.NET you ideas on what should be included.
HAMFESTS –
The spread of COVID-19 (AKA Corona Virus) has put a major damper on hamfests.
With the ongoing COVID-19 situation, be sure to check the websites to make sure the hamfest has not been cancelled. 2020 was a lean year for hamfests, or any other activity where people gather in large numbers. Check any hobby/activity and we are all going through the same issues.
With the new month, some of the restrictions have been lifted, but not for events like hamfests which can draw large crowds.
At the present time, Berryville is still on the calendar. But that could change depending on
whether hamfest-sized groups are permitted.
Whether it's Berryville 2021 or Richmond 2022, once we are able safely to attend hamfests, let's be sure to all go to the first area hamfest.
As many expected, Hamvention 2021 has been cancelled. Here's hoping 2021 will improve as the year goes on. Past history and the experts tell us pandemics last two years.
TRAINING –
Since we will be using Zoom to teach classes, we are looking at holding both Technician and General at the same time starting March 23 and ending May 25, 2021. There have been a few people who have signed up for the Technician class. If you know of somebody who has always wanted to become a ham radio operator, they can sign up on the club website https://w4hfh.org and ask me questions at ka4gfy@arrl.net. I do have a couple of people who have asked about General classes. If you are a Technician looking to upgrade to General, please sign up on the club's website.
The big logistic question will be scheduling on-line exams for everybody. My experience with on-line exams has been if the test taker is prepared, they can complete the Technician and General exam in about 30 minutes each and 45 minutes for the Extra. So, the last week will be exam week. We do have the option of a space to use that meets the new gathering limitation and I have an idea for a location to do a drive-in exam.
We are still working on getting our VE team up to speed so we can do remote exams. Looking at www.Hamstudy.org, there appears to be a lot of interest in becoming licensed by the number of exam sessions that are full. It appears that VE teams are giving all the exams they can handle.
If you are looking to take an exam, ARRL has a link for finding online exams:
http://www.arrl.org/findonlineexam
CONTESTS –
 March 6 and 7- ARRL International DX Contest-SSB. Exchange ia RST and state.
 March 13 and 14 – Oklahoma QSO Party. Exchange is RST and state.
 March 13 and 14 – Idaho QSO Party. Exchange is state.
 March 14 and 15 – Wisconsin QSO Party. Exchange is state.
 March 20 and 21 – Virginia QSO Party. Exchange for VA stations is a serial number andcounty/city. Outside VA is serial number and state.
 March 27 and 28 – CQ Worldwide WPX Contest, SSB – Exchange is RS & serial number
 April 3 and 4 – Mississippi QSO Party – Exchange is RST and state
 April 3 and 4 – Louisiana QSO Party – Exchange is RST and state.
 April 3 and 4 – North American SSB Sprint – Exchange is other station's call, your call.,serial number, your name and your state.
 April 3 and 4 – Florida State Parks on the Air – Exchange is state.
 April 10 and 11 – Nebraska QSO Party – Exchange is state.
 April 10 and 11 – New Mexico QSO Party – Exchange is nme and state.
 April 10 and 11 – Georgia QSO Party – Exchange is RST and state.
 April 10 and 11 – North Dakota QSO Party – Exchange is RST and state.
 April 17 and 18 – Michigan QSO Party – Exchange is serial number and state.
 April 17 and 18 – Texas State Parks on the Air – Exchange is RST and state.
 April 17 and 18 – Ontario QSO Party – Exchange is RST and state.
 April 18 – ARRL Rookie Roundup SSB – Exchange is name, 2 digit year 1st licensed and state.
 April 24 and 25 – Florida QSO Party – Exchange is RST and state.
March 20 and 21 is the Virginia QSO Party. Even if you do not have an HF station, you can still participate. There is plenty of activity on 146. 580 MHz, 223.;500 MHz and 446.000 MHz. You don't need a big station. A modest VHF/UHF radio with a decent antenna will do well. Be sure to send in your log and indicate you belong to the Alexandria Radio Club. We have done well the last few years. Rules are on the Sterling Park Amateur Radio Club website at: https://www.qsl.net/sterling/uf1.htm
Every Sunday evening at 8 PM local time, the K1USN Radio Club sponsors the "Slow Speed "Contest." The exchange is similar to a QSO. See the rules here:
http://www.k1usn.com/sst.html.
Every Tuesday at 0100 (8 PM EST Monday for us) is the Worldwide Sideband Activity Contest. Exchange is RS and age group (OM, YL, Youth YL or Youth). Here are the rules: https://wwsac.com/rules.html
Don't forget, be sure to send in your log within 7 days after the contest ends for all ARRL sponsored contests. ARRL now uses a web application for contest log submissions. Here is the link: http://contest-log-submission.arrl.org/ Be sure to convert your file to Cabrillo format before submitting. Most logging programs support the Cabrillo format.
REMEMBER to support the CLUB'S score for contests by providing Ian, N8IK your info (Name, Call sign and Grid Square location) and submit your scores for the contests you play in. If the contest asks for a club affiliation, the Alexandria Radio Club is on the list of contest clubs. Contesting is one way we show that we are using our frequency allocations.
Contests may not be your thing, but contests are a great way to show outside interests we do use our valuable spectrum. By showing we use our spectrum, other services will have a hard time proving that we don't use our spectrum and it's up for re-allocation to someone else. Contests can also be a great way to become introduced to HF communications. While it can be intense, pick the contest and jump in. Most contests have a limited exchange so it is usually easy to get what the other station needs.
State QSO parties are a great introduction to contesting. Most are low-key and the exchange is limited.
Speaking of state QSO parties, there is now a state QSO party challenge. You can start accumulating multipliers by submitting a log in any state or provincial QSO party to 3830scores.com QSOParty Groups.io.forum and State QSOParty.com.
REPEATERS –
The club repeaters are all up and running. The DSTAR repeaters are seeing a lot of activity. We have been linking the 70 cm repeater to Reflector 001C, the world-wide reflector and the 23cm repeater to Reflector 030C, another busy reflector. If you want to link to another reflector, be sure to unlink the repeater first and then link to the reflector of your choice. All we ask is you return it to reflector you found it on.
The DMR side is working normally with access to the DMR servers. If you use the DMRVA codeplugs, they have updated codeplugs on their website with the new DMR repeaters added since early this year for many of the popular handheld and mobile DMR radios. The codeplugs include more than just the DMRVA system repeaters. Their website is http://www.dmrva.org/
We have resumed (semi-regularly) the follow-on net on one of the other repeaters after the Thursday net on the 2-meter analog repeater.
Ian, N8IK, has started a Wednesday night DSTAR net on the 145.380 MHz repeater at 8 PM, same time as the Thursday net on the analog repeater. We will most likely be linking the repeater to one of the reflectors so members and former members outside the local area can join in.
As always, ham it up and get on the air.
73, Rich, KA4GFY
Gene Jenkins, N4JEE | engaged in ARC Trailer Construction Team for National Capital Area: Amateur Radio Community Service


History as told by Gene Jenkins, N4JEE, Alexandria Radio Club Member

"The idea for the trailer came during the support for the Salvation Army at the Pentagon after 9-11. They had us set up net control at their headquarters. It was like field day stringing wire in the trees and all. There was a clear need for a mobile command center for Ham Radio. One that could be towed to a location and be on the air in minutes. A while later, a lady donated her silent key husband's ham shack to the club. We sold off the equipment and dedicated the proceeds to the project. That money with a number of us digging into our own pockets gave us enough cash to buy a trailer. We parked it in my driveway in Fairfax and had work parties most every weekend…

One of the members had a friend in the Manassas club that had a vinyl cutting machine that volunteered to cut our graphics for us for the cost of the material. When the time came, his equipment was down. I got some estimates from sign companies and none were in our budget. I bought a machine and some vinyl and we learned how to make signs. The machine and vinyl cost much less then the estimates from the sign companies. The original intent was to allow other clubs to use the trailer for emergencies and events. That's why the graphics are generic and there are points for any club to attach their own banner. Again, the original plan was that an operator could bring their own equipment and be on the air in no time. Over the years the club has populated the trailer with their own equipment so loaning it out wasn't a good idea.

Everyone contributed ideas as well as labor to build the trailer. Some of the ideas worked and some didn't. Those that didn't have been retrofitted over the years and I'm sure that there are plans for future enhancements in the queue. I'm proud to have been a part of the project and glad that it is still in use on a regular basis and that should a disaster occur in the DC area that the Alexandria Radio Club will be there, with the trailer, to provide support."

Prepared by Don Lewis, KI4D
________________________________________________


Download PDF, 322KB
_________________________________________________

EVENTS PLANNED FOR AMATEUR RADIO ENTHUSIAST


[su_divider divider_color="#e25252″]

You are invited to

Amateur Radio Roundtable,

a new series of W5KUB.com live weekly webcasts. The webcast is every

Tuesday night at 9:00 PM EDST

(0200 UTC Wednesdays) at

W5KUB.COM

. To watch click on Live Events and sign in with your existing User Name and Password.

Amateur Radio Roundtable is an informal discussion of all aspects of ham radio with the intent of allowing viewers to watch this live webcast or be a guest via Skype or Google Hangout. A question and answer session with viewers will follow each topic.

The show covers all aspects of ham radio; such as, balloon launches, Satellite, go-kits, emergency communications, SDR, digital modes, DXing, home brewing, and much more. This week's guests include Arnie Shatz, N6HC, a team member of many great DExpeditions; Eric William discussing SRD; and Franc Dunatov, ZL1SLO, discussing Special Event operations from New Zealand.

Looks like fun! <https://www.arrl.org/npota> https://www.arrl.org/npota
Lots of activation possibilities in this area.

---

All – this is a critical time for the survival of hopes that amateur radio will have the same rights and privileges as, or parity with, commercial radio interests regarding antenna installations in communities across the U.S. ARRL President Kay Craigie, N3KN, has issued an urgent call for League Members to contact Senate Committee on Commerce, Science, and Transportation members representing their states to urge their support of S. 1685, the US Senate version of the Amateur Radio Parity Act of 2015. Action on this legislation in the Senate is scheduled this week.

Neither Virginia Senator Warner nor Senator Kaine is on the Senate Committee on Commerce, Science, and Transportation, however, they could be persuaded to be a co-sponsor S. 1685 as is Senator Al Franken of Minnesota, who is also not a member of the Committee. See link below for ARRL details.

If the legislation becomes law, radio amateurs living in antenna-restricted communities would have the opportunity to negotiate with homeowners associations to install antennas that reasonably accommodate Amateur Radio communication.

Taking the time out to contact our Virginia Senators for support of S. 1685 would contribute to the passage of this legislation, and may contribute to amateur radio capabilities to support to the public in case of emergencies. Phone numbers are listed below,

Senator Mark Warner
475 Russell Senate Office Building
Washington, DC 20510
Phone: 202-224-2023
Senator Tim Kaine
231 Russell Senate Office Building
Washington, D.C. 20510-4607
DC Phone: 202-224-4024
DC Fax: 202-228-6363

https://www.arrl.org/news/arrl-president-urges-blast-of-support-for-senate-version-of-amateur-radio-parity-act
–Don, KI4D

---

WEEKLY NET REQUEST:
Be sure to copy and submit the practice emergency message each week.

Sample format