Alexandria Radio Club (ARC)

Club Repeaters: 147.315+ (PL 107.2), 444.600+ (PL107.2), 224.820- (PL107.2), 53.130- (PL107.2) 927.600 (-25Mhz, PL107.2), and 1282.600- (PL 107.2), DSTAR 145.380- Mhz, 442.060+, and 1284.600- DMR 442.4125 +5Mhz Color Code 1.)
PLEASE USE OUR REPEATERS.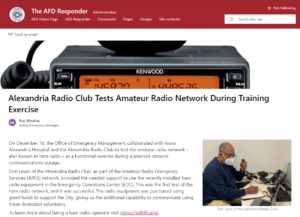 Click image for larger view
ARC's PSA Brochure

Alexandria-Radio-Club-Tri-fold-brochure_REV20200225

Download PDF 4.28MB
# # # # #
---
Field Day 2019 Report by Chairman Don KI4D it was a gorgeous weather weekend with over 70 members and guests participating with smiles. Please upload additional photos for GIF update at: https://photos.app.goo.gl/GNnGTjp5V7N232ih9
ARC-FEMA.Don_.Lewis_.2019

Download PDF, 1013KB
---
ALEXANDRIA RADIO CLUB
FCC LICENSE SCHOOL


DIGITAL REGISTRATION FORM


(Spring 2023 Class Schedule)
REGISTRATION IS NOW OPEN

First Class Date: Each Tuesday, beginning March 7, 2023.
The required FCC Exam will be given on the last session on May 9, 2023.
Class Start Time: 1900 hours until 2100 hours (7:00 PM to 9:00 PM)
Teaching Site: via Zoom Meetings.
Cost: There is no charge for the class itself. You will need to get an ARRL Technician License Manual (or General Class Manual if you already have a Technician License) for around $33 plus shipping. We highly recommend you purchase from the ARRL, see HRLM or GCLM, or a ham radio vendor like Ham Radio Outlet or DX Engineering so that you get the current edition of the manual. Amazon vendors do not always send the current edition. There is an ARRL exam fee of $15.00 payable by check or cash on the night of the exam.
FCC License School Coordinator: Rich Adamy, KA4GFY – contact Rich at (703) 969-6615 or training@w4hfh.org for additional information or to register for the class. Rich is assisted by a cadre of instructors who are FCC Extra Class licensees and former industry and military communications specialists. The FCC License Class Syllabus covers 400 question topics from which 35 pool questions make up the license exam. Classes incorporate ARRL PowerPoint Topics and Film Clips portraying the historical evolution of radio communications. License practice exam questions are available on the Internet. Learning International Morse Code is no longer an FCC license requirement, but is encouraged.
FCC Title 47 Telecommunications, Part 97 Amateur Radio Service
Your FCC Registration Number (FRN) You must have an FRN assigned prior to the exam.
ARC-SHORTS Newsletter

ARC SHORTS JANUARY 2023

Gene Jenkins, N4JEE | engaged in ARC Trailer Construction Team for National Capital Area: Amateur Radio Community Service


History as told by Gene Jenkins, N4JEE, Alexandria Radio Club Member

"The idea for the trailer came during the support for the Salvation Army at the Pentagon after 9-11. They had us set up net control at their headquarters. It was like field day stringing wire in the trees and all. There was a clear need for a mobile command center for Ham Radio. One that could be towed to a location and be on the air in minutes. A while later, a lady donated her silent key husband's ham shack to the club. We sold off the equipment and dedicated the proceeds to the project. That money with a number of us digging into our own pockets gave us enough cash to buy a trailer. We parked it in my driveway in Fairfax and had work parties most every weekend…

One of the members had a friend in the Manassas club that had a vinyl cutting machine that volunteered to cut our graphics for us for the cost of the material. When the time came, his equipment was down. I got some estimates from sign companies and none were in our budget. I bought a machine and some vinyl and we learned how to make signs. The machine and vinyl cost much less then the estimates from the sign companies. The original intent was to allow other clubs to use the trailer for emergencies and events. That's why the graphics are generic and there are points for any club to attach their own banner. Again, the original plan was that an operator could bring their own equipment and be on the air in no time. Over the years the club has populated the trailer with their own equipment so loaning it out wasn't a good idea.

Everyone contributed ideas as well as labor to build the trailer. Some of the ideas worked and some didn't. Those that didn't have been retrofitted over the years and I'm sure that there are plans for future enhancements in the queue. I'm proud to have been a part of the project and glad that it is still in use on a regular basis and that should a disaster occur in the DC area that the Alexandria Radio Club will be there, with the trailer, to provide support."

Prepared by Don Lewis, KI4D
________________________________________________

ChromebookLinuxShowTell

Download PDF, 322KB
_________________________________________________

EVENTS PLANNED FOR AMATEUR RADIO ENTHUSIAST


You are invited to

Amateur Radio Roundtable,

a new series of W5KUB.com live weekly webcasts. The webcast is every

Tuesday night at 9:00 PM EDST

(0200 UTC Wednesdays) at

W5KUB.COM

. To watch click on Live Events and sign in with your existing User Name and Password.

Amateur Radio Roundtable is an informal discussion of all aspects of ham radio with the intent of allowing viewers to watch this live webcast or be a guest via Skype or Google Hangout. A question and answer session with viewers will follow each topic.

The show covers all aspects of ham radio; such as, balloon launches, Satellite, go-kits, emergency communications, SDR, digital modes, DXing, home brewing, and much more. This week's guests include Arnie Shatz, N6HC, a team member of many great DExpeditions; Eric William discussing SRD; and Franc Dunatov, ZL1SLO, discussing Special Event operations from New Zealand.

Looks like fun! <https://www.arrl.org/npota> https://www.arrl.org/npota
Lots of activation possibilities in this area.

---

All – this is a critical time for the survival of hopes that amateur radio will have the same rights and privileges as, or parity with, commercial radio interests regarding antenna installations in communities across the U.S. ARRL President Kay Craigie, N3KN, has issued an urgent call for League Members to contact Senate Committee on Commerce, Science, and Transportation members representing their states to urge their support of S. 1685, the US Senate version of the Amateur Radio Parity Act of 2015. Action on this legislation in the Senate is scheduled this week.

Neither Virginia Senator Warner nor Senator Kaine is on the Senate Committee on Commerce, Science, and Transportation, however, they could be persuaded to be a co-sponsor S. 1685 as is Senator Al Franken of Minnesota, who is also not a member of the Committee. See link below for ARRL details.

If the legislation becomes law, radio amateurs living in antenna-restricted communities would have the opportunity to negotiate with homeowners associations to install antennas that reasonably accommodate Amateur Radio communication.

Taking the time out to contact our Virginia Senators for support of S. 1685 would contribute to the passage of this legislation, and may contribute to amateur radio capabilities to support to the public in case of emergencies. Phone numbers are listed below,

Senator Mark Warner
475 Russell Senate Office Building
Washington, DC 20510
Phone: 202-224-2023
Senator Tim Kaine
231 Russell Senate Office Building
Washington, D.C. 20510-4607
DC Phone: 202-224-4024
DC Fax: 202-228-6363

https://www.arrl.org/news/arrl-president-urges-blast-of-support-for-senate-version-of-amateur-radio-parity-act
–Don, KI4D

---

WEEKLY NET REQUEST:
Be sure to copy and submit the practice emergency message each week.

Sample format