The Alexandria Amateur Radio Club's use of D-STAR (Digital Smart Technology for Amateur Radio) equipment and digital radio technology for amateur service between radios or repeaters in the interest of club members and the radio community-at-large. Icom and Kenwood manufacturer radio products that implement the D-STAR protocol.
If you are a D-STAR subscriber, please consider a donation of any amount to defer the Internet and maintenance expenses to the club. We also have a 70cm DMR repeater that shares the existing internet connection.

We would prefer you mail us a check or attend the next club meeting since PayPal charges us transaction fees. However, the COVID-19 pandemic makes this the most convenient method of helping here.
If you're using an IC-92AD, ID-51A, IC-2820H, TH-D74A, or other GPS-enabled D-STAR radio click on the callsign and view the unit's location. Click Here: https://www.w4hfhdstar.org/
To register Ham Radio Call Sign on the D-STAR Gateway System (W4HFH)
Click Here: https://www.w4hfhdstar.org/Dstar.do
To view in real time D-STAR users around the world go to: http://www.dstarusers.org .
To obtain an updated listing and brief description of D-STAR Reflectors around the world, go to: http://www.dstarinfo.com/reflectors.aspx. In addition, the Georgia D-STAR group has lots of interesting and other useful knowledge for interested visitors. Also, a helpful D-STAR Reflectors User Guide (PDF) published by UK Interconnect Team, Click here to download – UKIT_dplus_Reflector_User_Guide_V1_1 .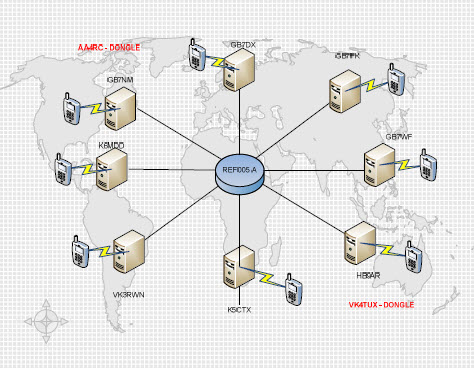 NOTE BY W4HFH D-STAR REPEATER ADMINISTRATOR
W4HFH D-STAR Repeaters are a complete "stack", i.e., 2 meter, 70 cm, 1.2 GHz voice, and 1.2 GHz data capabilities. Those interested in experimenting with the 1.2 GHz data capabilities can find a good tutorial at www.dstar.org.au. Our 2 meter Port C D-STAR repeater, has Reflector 1C attached, a community conversation reflector for D-STAR users around the world. Our 70cm Port B D-STAR repeater linked to National Capitol Region D-STAR Users Association Reflector 25B. Our 1.2 GHz Port A, is generally linked on reflector 14A a West coast, primarily San Francisco technical group of D-STAR users.
If you are not a club member, please consider joining ARC to help support amateur radio activities. Any questions, send me an email and please have FUN enjoying the world of D-STAR!
73,
Marshall, KI4MWP
W4HFH D-STAR System Administrator