Alexandria Radio Club ZOOM Virtual Meeting Schedule
Monthly 10 March 2020 -Meeting ID:_______________ Password: _________
Social distancing as a result of COVID-19 mandates that we cancel in-person monthly meetings through June. Instead, we'll use the Zoom app to continue getting together – look for invitations via our email list. Monitor our 2m repeater 147.315+ (T107.2) for current club events and subscribe to our email list. Send n8ik at arrl.net an email if you'd like to be added.
Report from Don, KI4D – Field Day 2019 Chair
It was a gorgeous weather weekend with over 70 members and guests participating with smiles. Please upload additional photos for GIF update at: https://photos.app.goo.gl/GNnGTjp5V7N232ih9
# # # # #
ALEXANDRIA RADIO CLUB
FCC LICENSE SCHOOL


DIGITAL REGISTRATION FORM


(Spring Class Schedule)
First Class Date: Each Tuesday, March 10th 2020 through May 5th 2020.
The required FCC Exam will be given on the last session in May.
Class Start Time: 1900 hours until 2100 hours ( 7:00 PM to 9:00 PM)
Teaching Site: Alexandria Police Department Headquarters, 3600 Wheeler Ave, Alexandria, VA (Just off Duke Street about 1 block west of Quaker Lane)
Cost: ARRL License Manual $30.00 + FCC Exam Fee $15.00 + Class Material $5.00 = $50.00. We prefer cash or checks at the first class since PayPal charges us transaction fees.
FCC License School Coordinator: Rich Adamy, KA4GFY

For additional information contact Rich at (703) 969-6615 or ka4gfy@arrl.net.
Rich is assisted by a cadre of instructors who were electronic and communications specialists in the local industry and/or military training centers. All are Extra Class licensees and several have commercial FCC licenses.
The FCC License Class Syllabus covers 400 question topics from which 35 pool questions make up the license exam. Classes incorporate ARRL PowerPoint Topics & Film Clips portraying the historical evolution of radio communications. License practice exam questions are available on the Internet.
Learning International Morse Code is no longer an FCC license requirement, but is highly encouraged.
Click here for Electronic Code of Federal Regulations
Title 47 ->Part 97 – AMATEUR RADIO SERVICE
Notices of Importance



[Alexandria Radio Club Reflector] Tomorrow's Club Meeting Cancellation and COVID-19 – March 12, 2020
Joining many cancellations of gatherings in our area because of coronavirus COVID-19 threats, this note is to cancel the Club meeting scheduled for tomorrow night. Our guest speaker scheduled for tomorrow night is not able to attend because of unforeseen obligations. The ARC leadership group is evaluation other means of convening our meetings rather than in-person meetings because of the continuing COVID-19 threat, and we will provide updates.
Don, KI4D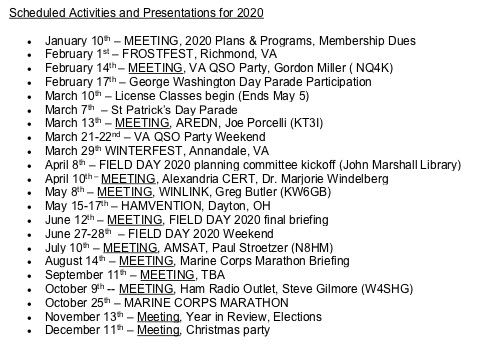 ARC-SHORTS

Newsletter


April 2020
Club Repeaters: 147.315+ (PL 107.2), 444.6 (PL107.2), 224.82 (PL107.2), 53.13 (PL107.2) 927.6 (-25Mhz, PL107.2), and 1282.600 (PL 107.2), DSTAR 145.38Mhz, 442.060, and 1284.600 ( DMR IS UP AND RUNNING 442.4125 +5Mhz Color Code 1.)
ALL ARE UP AND RUNNING – HAM IT UP! Get on the air!
SPECIAL NOTE: DMR IS UP AND RUNNING 442.4125 +5Mhz Color Code 1. PLEASE USE OUR REPEATERS.
Presidents Input
COVID-19 has changed the course of so many things in our lives and in our club planning for this year. So many things are changing that our entire timeline for club activities and presentations for the year may need to be revised. However, because there are still so many uncertainties, we can only be sure of the changes needed in the few coming months. We just can't be certain about the second half of the year. A revised calendar will be published reflecting those changes.
Our Club in-person meetings are indefinitely suspended and will be conducted using the Zoom video teleconferencing (VTC) software. We are aware of the reported security issues with Zoom but have decided that since we don't handle sensitive information, our risk in using the software is minimal compared to the benefits of having our meetings. Our next meeting will feature a discussion of the Alexandria Community Emergency Response Team (CERT) by Dr. Marjorie Windelberg, Alexandria CERT Co-Coordinator.
In view of the projections that Virginia COVID-19 cases outbreak may not peak for another four to eight weeks from now, the start of Field Day Planning will be delayed until mid- May.
We are still working on a group buy for ARES safety vests and a cold-weather garment for which we are awaiting a new order of ARC patches to be completed. These patches are to be sewn on both garments.
We have launched an effort to publish a list of Club Elmers to be available as help for new members of the club or less experienced hams in the club.
This information will be circulated before our next meeting.
Please stay safe and keep up with your social distancing.
73 Don, KI4D
NEXT CLUB MEETING
February/MARCH Meeting Minutes
6 METERS – NO INTEREST – Cancelled
While there were no takers for the 6-meter net, using our repeaters while we are SOCIAL DISTANCING is a good way to stay in touch with our ham radio friends. I listen on 147.315 when I'm in the shack. I sometimes listen on 4464.6, 224.82 and 53.13. Join in, ANYTIME. Just drop your call. Rundown your HT batteries, Check your gear,
Club Schedule
Thanks to our club president for making this up and we have been running well so far.
* February 1st – FROSTFEST, Richmond, VA – Good turnout.
* February 14th – Meeting, VA QSO Party Presentation – Always good to get Gordon to talk to us.
* February 17th – George Washington Day Parade participation (9AM – 2:30PM) – Thanks to all who came out and helped make this a success.
* March 2nd – License Classes begin (Ends May 5th with a VE Session). Now putting ZOOM to the test. It will be interesting to see what the pass rate is. Welcome to all our new students.
* March 7th – St Patrick's Day Parade – Great showing. Good PR for our club.
* March 13th – Meeting, Member GO-KIT Exhibits & Discussions or ARDEN. MEETING CANCELLED.
* March 21-22nd – VA QSO Party Weekend – GREAT EVENT. I hope those who worked the party will send in their reports so the club has a good score.
* March 29th WINTERFEST, Annandale, VA (We have tables!) – RAIDED BY THE VIRUS, Maybe Barryville will make up for it. You are here !!!
* April 8th – Field Day planning committee kickoff meeting (John Marshall Library)
* April 10th – Meeting, Alexandria CERT – ZOOM !!!!!
* May 14th – Meeting, WINLINK presentation
* May 15-17th – HAMVENTION, Dayton, OH – CANCELLED due to virus.
* June 12th – Meeting, Field Day final briefing
* June 27-28 – FIELD DAY 2020
* July 10th – Meeting,
* August 14th – Meeting, Marine Corps Marathon Briefing
* September 11th – Meeting,
* October 14st — Meeting,
* October 25th – MARINE CORPS MARATHON
* November 13th – Meeting, Club ELECTIONS
* December 11th – Meeting, Christmas party
Programs in the works: AMSAT, AMRAD, HRO, EOC visit, SDRs
ARES
New requirements for ARES volunteers. First, to find out what's going on in the state FACEBOOK is the place to get info (so I'm told), All ARES volunteers will be expected to sign up with ARRL ARES CONNECT VA. I understand that I will be able to keep records and post nets and events for our group on this site. Please sign up <https://arrl.volunteerhub.com/> https://arrl.volunteerhub.com/ Make sure you're on the Virginia site.
Another requirement is the TRAINING TASK BOOK. I sent out the PDF earlier. Note that you have a year to complete the requirement. There are THREE levels. Level 1 is easy. SKYWARN requirement is every two years and can be done now ONLINE. FEMA IS 100 is also done online. As for the other requirements, let me know when you complete the items on the list, and I will be happy to sign off as EC.
FOR SALE or to a Good home.
My XYL says I have run out of storage space and need to get rid of a few radios. SO..
I have three or four Kenwood TR-7950 2 meter transceivers. One only puts out 22 watts, all have some lights out, but they all work! All have 3 – tone, Tone boards (107.2,141.3 and 156.?) which will work on MOST of the local repeaters. Free to a good home.
I also have an ICOM IC-2340H, one of the first dual-band mobiles, I works well but the UHF memory / VHO button has failed so you can only use the VFO and not call up UHF memories. Free to a good home. 50 watts VHF, 35 watts UHF.
AZDEN 7500 6 meter mobile 50 watts out. $75
Yaesu FT-8900 quad-band with a remote kit (10m, 6m, 2m, 70cm). $100.
Ten-Tec Eagle HF/6m transceiver. With built-in tuner and filters. $750 with a microphone.
IC V8000 2 meter high output (75 watts), I have two of these radios and will sell them for $100 each.
Send me an e-mail and we can plan.
If you have items you are looking for or want to sell, send me a note and I will include it in the next ARC SHORTS.
73 Rick
N4ASX@COX.NET
Hamfests –
The spread of COVID-19 (AKA Corona Virus) has put a major damper on hamfests.
So far in our area, Winterfest, FrostFest and Hagerstown Hamfests have been canceled. The Raleigh, NC hamfest has been canceled. The Delmarva hamfest has been canceled. The big disappointment to everyone is the cancellation of Hamvention 2020. The first time in their 68 year history.
As of late March, the Memorial Weekend Hamfest on May 24, 2020, sponsored by the Maryland FM Association is still on the calendar. It's held at the Howard County Fairgrounds in West Friendship, MD, right off Route 144 and I-70. Talk-in will be on the MFMA repeaters, 146.760 (-), 224.760 (-) and 444.000 (+). All need a 107.2 Hz PL tone to access them.
Here is the link: <http://www.marylandfm.org/Hamfest.htm>
http://www.marylandfm.org/Hamfest.htm
In June, it's the Olde Virginia Hams hamfest in Manassas Park on June 13, 2020. It's held at the Manassas Park Community Center, just off Route 28. Talk-in on the Olde VA Hams 146.970 (PL 100 Hz) repeater. Here is the link: <https://w4ovh.net/welcome-to-manassas-hamfest/> https://w4ovh.net/welcome-to-manassas-hamfest/
The Father's Day Hamfest at Arcadia takes place on June 21, 2020 at the Arcadia Fairgrounds in Upperco, MD. It's sponsored by the Baltimore Amateur Radio Club. Talk -in is on BARC 2 meter repeater, 146.670 MHz (PL 107.2 Hz). Here is the link: <https://w3ft.com/hamfest/> https://w3ft.com/hamfest/
With the ongoing COVID-19 situation, be sure to check the websites to make sure the hamfest has not been canceled.
Training –
Our class began on schedule March 10 with 18 students in attendance. There were four who indicated they were interested in coming, but other commitments got in the way.
By the second week, we were unable to hold class in the Police Department facility. Don, KI4D, suggested we try Zoom. It worked very well. This may be the way we hold classes for the foreseeable future.
We are working on a contingency plan for the exam session if we do not get access to the Police Department HQs building or the restriction on large gatherings is still in place in early May.
Contests –
* April 4 and 5 – Florida State Parks on the Air. Exchange state.
* April 4 and 5 – Louisiana QSO Party. Exchange is RST and state.
* April 4 and 5 – Missouri QSO Party. Exchange is RST and state.
* April 4 and 5 – Mississippi QSO Party. Exchange is RST and state.
* April 4 and 5 – Nebraska QSO Party. Exchange state.
* April 5 – North American Sprint – SSB. Exchange is other station's call, your call, serial number, and state. Sorry I did not get this out sooner.
* April 11 and 12 – New Mexico QSO Party. Exchange is a name and state.
* April 11 and 12 – Georgia QSO Party. Exchange is RST and state.
* April 11 and 12 – North Dakota QSO Party. Exchange is RST and state.
* April 18 and 19 – Texas State Parks on the Air. Exchange is RST and state.
* April 18 and 19 – Michigan QSO Party. Exchange is serial number and state.
* April 18 and 19 – Ontario QSO Party. Exchange is RST and state.
* April 25 and 26 – Florida QSO Party. Exchange is RST and state.
* May 2 and 3 – 7th call area QSO Party. Exchange is RST and state.
* May 2 and 3 – Indiana QSO Party. Exchange is RST and state.
* May 2 and 3 – Delaware QSO Party. Exchange is RST and state.
* May 2 and 3 – New England QSO Party. Exchange is RST and state.
* May 9 and 10 – Arkansas QSO Party. Exchange is RST and state.
Don't forget, be sure to send in your log within 7 days after the contest ends for all ARRL sponsored contests. ARRL now uses a web application for contest log submissions. Here is the link: <http://contest-log-submission.arrl.org/>http://contest-log-submission.arrl.org/ Be sure to convert your file to Cabrillo format before submitting. Most logging programs support the Cabrillo format.
REMEMBER to support the CLUB'S score for contests by providing Ian, N8IK your info (Name, Call sign and Grid Square location) and submit your scores for the contests you play in. If the contest asks for a club affiliation, the Alexandria Radio Club is on the list of contest clubs. Contesting is one way we show that we are using our frequency allocations.
Contests may not be your thing, but contests are a great way to show outside interests we do use our valuable spectrum. By showing we use our spectrum, other services will have a hard time proving that we don't use our spectrum and it's up for re-allocation to someone else.
Contests can also be a great way to become introduced to HF communications.
While it can be intense, pick the contest and jump in. Most contests have a limited exchange so it is usually easy to get what the other station needs.
State QSO parties are a great introduction to contesting. Most are low-key and the exchange is limited.
Speaking of state QSO parties, there is now a state QSO party challenge. You can start accumulating multipliers by submitting a log in any state or provincial QSO party to 3830scores.com QSOParty Groups.io.forum and State QSO Party.com.
Repeaters –
The club repeaters are all up and running. We have resumed (semi-regularly) the follow-on net on one of the other repeaters after the Thursday net on the 2-meter analog repeater. Don't forget the Monday night 6-meter net.
We are making progress on the internet connection issue at the hospital. We determined the modem on our internet connection needed to be replaced, so we are replacing it. However, the COVID-19 situation may limit access to the hospital to replace the modem.
You can use the DSTAR repeaters in local mode by not filling in the "Repeater 2" position or link to another W4HFH DSTAR repeater by using "W4HFH" in the first 5 positions and "A", "B", or "C" in the 8th position in "Repeater 2."
The local mode for the DMR repeater is talk group 27500. Most code plugs label the talk group as "Local."
As always, ham it up and get on the air.
73, Rich, KA4GFY
Gene Jenkins, N4JEE

| engaged in ARC Trailer Construction Team for National Capital Area: Amateur Radio Community Service


History as told by Gene Jenkins, N4JEE, Alexandria Radio Club Member

"The idea for the trailer came during the support for the Salvation Army at the Pentagon after 9-11. They had us set up net control at their headquarters. It was like field day stringing wire in the trees and all. There was a clear need for a mobile command center for Ham Radio. One that could be towed to a location and be on the air in minutes. Awhile later, a lady donated her silent key husband's ham shack to the club. We sold off the equipment and dedicated the proceeds to the project. That money with a number of us digging into our own pockets gave us enough cash to buy a trailer. We parked it in my driveway in Fairfax and had work parties most every weekend…

One of the members had a friend in the Manassas club that had a vinyl cutting machine that volunteered to cut our graphics for us for the cost of material. When the time came, his equipment was down. I got some estimates from sign companies and none were in our budget. I bought a machine and some vinyl and we learned how to make signs. The machine and vinyl cost much less then the estimates from the sign companies. The original intent was to allow other clubs to use the trailer for emergencies and events. That's why the graphics are generic and there are points for any club to attach their own banner. Again, the original plan was that an operator could bring their own equipment and be on the air in no time. Over the years the club has populated the trailer with their own equipment so loaning it out wasn't a good idea.

Everyone contributed ideas as well as labor to build the trailer. Some of the ideas worked and some didn't. Those that didn't have been retrofitted over the years and I'm sure that there are plans for future
enhancements in the queue. I'm proud to have been a part of project and glad that it is still in use on a regular basis and that should a disaster occur in the DC area that the Alexandria Radio Club will be there, with the trailer, to provide support."

Prepared by Don Lewis, KI4D
________________________________________________

Looks like fun! <https://www.arrl.org/npota> https://www.arrl.org/npota
Lots of activation possibilities in this area.

---

All – this is a critical time for survival of hopes that amateur radio will have the same rights and privileges as, or parity with, commercial radio interests regarding antenna installations in communities across the U.S. ARRL President Kay Craigie, N3KN, has issued an urgent call for League Members to contact Senate Committee on Commerce, Science, and Transportation members representing their states to urge their support of S. 1685, the US Senate version of the Amateur Radio Parity Act of 2015. Action on this legislation in the Senate is scheduled this week.

Neither Virginia Senator Warner or Senator Kaine is on the Senate Committee on Commerce, Science, and Transportation, however, they could be persuaded to be a co-sponsor S. 1685 as is Senator Al Franken of Minnesota, who is also not a member of the Committee. See link below for ARRL details.

If the legislation becomes law, radio amateurs living in antenna-restricted communities would have the opportunity to negotiate with homeowners associations to install antennas that reasonably accommodate Amateur Radio communication.

Taking the time out to contact our Virginia Senators for support of S. 1685 would contribute to passage of this legislation, and may contribute to amateur radio capabilities to support to the public in case of emergencies. Phone numbers are listed below,

Senator Mark Warner
475 Russell Senate Office Building
Washington, DC 20510
Phone: 202-224-2023
Senator Tim Kaine
231 Russell Senate Office Building
Washington, D.C. 20510-4607
DC Phone: 202-224-4024
DC Fax: 202-228-6363

https://www.arrl.org/news/arrl-president-urges-blast-of-support-for-senate-version-of-amateur-radio-parity-act
–Don, KI4D

---

WEEKLY NET REQUEST:
Be sure to copy and submit the practice emergency message each week.

Sample format