ARC-SHORTS
APRIL, 2013
Rick Bunn N4ASX – Editor
Club Repeaters: 147.315 (PL 107.2), 444.6 (PL107.2), 224.82 (PL107.2), 53.13 (PL107.2) Down for replacement, 927.6 (-25Mhz, PL107.2), and 1282.600 (PL 107.2), DSTAR 145.38Mhz, 442.060, and 1284.600
NEXT CLUB MEETING
Our next meeting is May 10th    at the Alexandria City's new Emergency Operations Center at 3600 Wheeler Ave.  We will meet in the Community Room on the first floor. Parking is the public lot right in front of the building.  You may now park on the street!!!!
Jack, K5OTZ, our Field Day chairman will provide our main program and maybe Eric KG4DZA will give us an update on the City's EMS radio system
As part of Ways and Means – I have a few Midland converted radios, minimum bid will start at $50,  I have  one 110 Watt 6 meter mobile with 22 channels, one 440 Mhz and one 2 meter, 40 watts out each with 22 channels.  The radios will include the software which runs under Windows.  You will need to buy or borrow a programming cable.    If your interested e-mail me at N4ASX@ARRL.NET
April Program – Mr. Mark Penn Alexandria City EMS Manager
Mr. Mark Penn is the City's EMS supervisor and has supported ARES and the club's repeaters for several years.  Mr Penn pointed out that Amateur Radio was a valued resource for the City's EMS, that ARES was in the city's emergency plan and he would work toward including us in future drills, training and of course when needed for emergency support.
April Meeting Minutes
Called to order by KJFUU, Tom.  Twenty four were in attendance.
Began with program so that Mark Pen, Emergency Response Coordinator for Alexandria would have maximum time to present.  He discussed his views of how Alexandria Radio Club members and assets would be used by the community.  He indicated it may be six months before he will have equipment installed for us and be ready to start testing emergency response using amateurs.  He emphasized that we should use that time to become ready.
The presentation ended at 8:20 with an extensive Q&A session following.
It was announced that N4ASX, Rick is out for knee surgery.
Treasurer's report was provided by Steve Wagner.
KA4GFY, Rick indicated that the Exam for the latest training class will be May 7th with 10 possible candidates ready for testing.
KI4MWP, Marshall indicated that DSTAR has 2 new users and an average of 130 users.
K5OTZ, Jack said he had ordered 20 Field Day pins.  We will be 6A or 5A category as a station.  There will be no GOTA station this year.  Food will be catered.  Efforts will be started 2 weeks to a month before Field Day to start contacting Media, newspapers, etc.
KA4FGY, Rich announced that an audit had been conducted of the club's finances and that everything was in order.
Events:
Bull Run Run was scheduled for 13 April.  Several of our members participated in the event, with Rich, KA4GFY and Don KI4D taking the lead.  We will have an article on this next month.
May 11th is annual armed forces cross band event.  If your receiver will go out of band and you can work split, this can be a lot of fund.
May 5th is Hagerstown hamfest ??  (Can't tell from Bobby's notes)
K4GFY discussed Dayton trip.  Four to five planning to go.  Room cost $180 to $200  Dayton Hamvention is the BIGGEST hamfest of the year with up to 30,000 hams.  In addition it is where all of the new commercial gear is brought out.  If you cannot find it at Dayton you don't need it!
KK4CKJ, Bobby said he was moving to North Carolina to be with his spouse in her new job.  Therefore he submitted his resignation as Secretary for the Club.  Larry Walker was nominated and elected to replace Bobby as Secretary for the club.
Net Controls were as follows:
KA4GFY, Rich 18 April
N8IK, Ian 25 April
KJ4FUU, Tom 2 May
KK4CBL, Larry 9 May
73 Larry Walker / KK4CBL – Club Secretary
VA QSO PARTY
Thanks to all who participated in the VA QSO Party and sent in scores.  This year the party was a good one but I'm afraid there were many other clubs out for the plaques this year.  The results were sent out to all who participated.  Next year we will have to make a better effort.  I understand that the Arlington Club did a great job.
The 224.82 Repeater Net
As you can see from the banner at the top of this newsletter, we have a bunch of repeaters which represent a great deal of work done by our repeater team.  In order to encourage use of the 224.82 repeater,  I will act as Net control at Saturday evening at 10PM (late night for some folks).
Rick /N4ASX
2013 Radio Field Day
This year's Field Day (FD) will be held on June 22-23 in Armistead Booth Park, Alexandria, Virginia. FD chairman is K5OTZ Jack Hranicky. We will operate under the club call sign W4HFH and be a 6A station. The following are band captains:
Band Station Captains
2M K5OTZ
6M and Digital  KI4D
10M  KJ4FUU
15M KV3W
20M N4CWP
40 KF7IJZ
75M -80M KA4GFY
Field Day is a 24-hour event so come out and help work these stations. Food will be served. But, you might bring a desert. Last year we had 30 people sign in, and the club worked 600+ stations worldwide.
All stations will operate both CW and SSB.  An HF digital station may also be set up.
73 Jack / K5OTZ
President's Corner
At the last meeting, we had some discussion about why our member participation in our Thursday night nets doesn't seem to be growing with the membership. Hopefully, Larry KK4CBL's e-mail will enlighten us. I realize that not everyone can afford to buy equipment willy-nilly, but some of our members are known to loan things out to those who need them. I don't have a lot of power supplies, or extra 2m antennas, but I do have a few extra 2m mobile radios. I wouldn't mind loaning a radio or two out, to see if it helps our new hams reach the repeater, but the power supply (a 12v battery with sufficient amperage would do) and the antennas would have to come from somewhere else. Caveat: If I loan you a mobile radio, PLEASE DO NOT ATTEMPT TO USE A RUBBER DUCK ON IT! Believe it or not, this has been done!
If the reason that more members do not participate is that our nets are boring, or about topics a particular member is interested in, keep in mind that the net is what you make of it. Check in, raise topics that are of interest to you, and maybe, eventually, discussion in that area will follow. If nothing else, checking in helps us know where our repeater does and does not reach well.
If the reason is the time, unfortunately, I can't help that. Thursday night allows us to make plans before the meeting on Friday, and 8:00PM is not too late for us early risers. If you can't make it all the time, we understand. If you can check in on occasion, please do. We normally go two rounds, but if you can't stick around for the second round, we don't give out demerits.
If you can be a net control operator, please volunteer. We can get you the general script, but each operator usually develops their own style.
If you have suggestions for things you would like to see in our nets, please let us know. Sometimes, the net control will ask a trivia question, or relay some interesting (usually radio related) news that they heard. We could use your ideas.
Yes, you can spend a lot of money in ham radio. But you can also have fun without doing so. We have a lot of potential  "Elmers" in the club, so if you need advice, contact us: come to a meeting, check into the net, or send an e-mail. Take advantage of the resources the club offers.
And, make plans to come to Field Day at Armistead Booth Park, and see how it's done. You can help set up, operate, help take things down, whatever you want to do. Plenty of experienced hams will be there to show you anything you need help with.
73,
– Tom Kirby KJ4FUU
El Presidente
Future Programs
Working on ARRL, AMRAD –  SDR radios, AMSAT – Eagle Sat, NERA – Wide area UHF repeater system, Cell Phone/Trunked Radio Systems, Field Day – Planning,
Training –
The Spring 2013 Technician is nearly completed.  We should have another group of enthusiastic, newly licensed hams ready to get on the air and explore ham radio.
When you do hear them on the air, be sure to welcome them to our great hobby.  Don't forget, we were all rookies once.  I remember the great hams that took me under their wing when I was first licensed.  I made lots of mistakes, but someone was always there with a helping hand and a kind word to keep me out of trouble.  It's that kind of commitment from the old timers that keeps the Amateur Radio Service going.  There aren't too many other hobbies where your fellow enthusiast is there to help you out.
We should have the exam results in next month's "ARC Shorts."
73,
Rich, KA4GFY
Hamfests –
May 26 – Maryland FM Association Hamfest.  Located at the Howard County Fairgrounds in West Friendship, MD, which is just off I-70 and Rte 32.
June 9 – Manassas Hamfest, sponsored by the Ole VA Hams.  Located at the Prince William County Fairgrounds on Rte 234 just outside Manassas.  Some of us will get a tailgate spot or two, bring your old gear and you will have a place to get together.
Contests –
May 11 – Annual Armed Forces Day Crossband Test.  This is NOT a contest, but it is an opportunity to work military and MARS stations around the US.  This is one of those rare exceptions where we get to work a station outside the Amateur Radio Service.  Here is the website with the frequencies and schedules:www.usarmymars.org/home/announcements.
May 11 – Nevada Mustang Roundup – Exchange is RST and your state.
May 11 – FISTS Spring Sprint.  Exchange is RST, state, name and your FISTS number or power.  By the way, this is all CW.
May 25 and 26 – CQ WW WPX Contest.  CW portion.  Exchange is RST and serial number.
73 Rick / KA4GFY
ARES
Field Day is a unique event.  It's part contest, part party as well as an emergency preparedness drill.  The long and short of it is that the club sets up a temporary station in a "field".  The idea is to operate as if a major disaster has hit the area and all you have is what you can take to a temporary operating location.  The measure of our effectiveness is how many contacts we can make in a 24 hour period.
In the days prior to solid state gear and cheap quiet generators, this was a major event.  With the solid state gear which can run from batteries or quiet generators, the issue now becomes antennas and operator expertise.
Our club is not a contest club, but some operators do want to see how well they can operate.  The goal is to operate across the 5 older HF bands (80/75. 40, 20, and 10 meters) and see how well we can do.  Both CW and SSB are used as well as some of the digital modes.  In addition we get a free VHF/UHF station, and bonus points for: operating in a public location, setting up a public relations table, running on emergency power, and several other bonus points are available.
As this is one of the major events for the club, we need all who can come out in the club to participate.  Even if you have only a few hours, please come out.  The club will have Saturday evening dinner catered and maybe some of the other meals.  Our Field Day chair, Jack K5OTZ runs the show and will work with his designated team captains.   You don't need a rig or to supply any other material unless you want to.  If you'er new to ham radio,  the ideal way to participate would be to sign up with one of the band captains and work with them to set up, operate and take down the station.
Social Events
Monday Night Half Price Burgers – There is a group that gets together at Shooter McGee's (Duke and Paxton Streets) on Monday evenings at 6:15 PM. A good burger and soft drink runs about $9.00
ELMER'S CORNER
May '13– VHF Antennas for Tech and others
Our weekly nets do not reflect the club's membership.  Some of the problem is that the success of our classes has brought in many new members.   Ham radio can be a very expensive hobby with the old Cushcraft Ringo costing over $100 and the Diamond and Comet sticks costing even more, may keep some of our new operators from putting up an antenna for 2 meters.  Another issue may be restrictions place on us by home owners associations or building management.
There are some stealthy solutions.  The first is the ¼ wave ground plane antenna. All you need is 5 – 19" pieces of copper wire (from 10 Ga. Romex is ideal).   Take an SO-239 chassis connector and solder the vertical element into the center of the connector, try not to melt the insulator.  Then you can solder the four ground plane elements to the four screw holes, but if you want to add a mount you can bend a small piece of sheet metal and drill a hole for the connector and the four mounting holes and use four screws to secure the connector and the radials to the mounting plate.  Drill holes for a U bolt to secure the antenna to a small piece of 1.25 in TV mast. Feed it with a small run of RG-8X or RG-58 with a connector that matches your radio and you will have a much better antenna then the rubber duck on the hand held. Another cheap antenna is the coaxial dipole.  Take one end and fold back the 19" of the outer conductor back over the plastic outer jacket of the coax leaving 19" of the inner conductor and insulating jacket exposed.  At the end of the outer conductor make an RF choke by rolling up four 6" diameter loops and taping them together.  The remainder of the coax should reach your operating position.  Add your connector for the radio at the other end.  You can hang this antenna up either outside or near a window. Another design that has some gain is the J-pole which can be made with TV Twin lead or ladder line.
Tools: Ruler, Wire strippers, Wire Cutters, SolderingIron.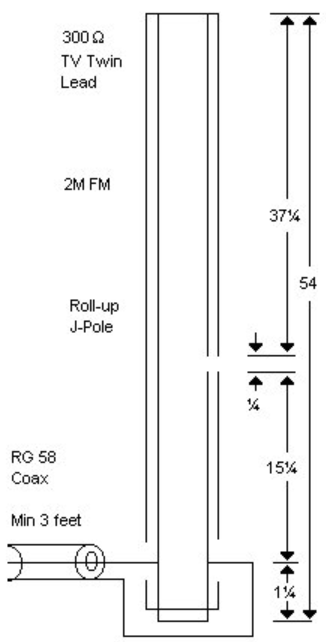 2 Meter J Pole Antanna
Measure 54″ of Twin lead and mark this spot with some maskingtape. Cut the wire about 1 ½ inches longer than this measurement.If this is your first attempt at building something, you may want to leave4 " of extra wire on the piece you are working with. This will allow anadditional attempt of the critical portion of construction.
Remove the center insulation from the bottom 1-inch of twinlead. Strip the insulation off of the bottom section of twin lead (onlythe 1 "). Connect the wire together at this point and solder.
From the splice you just made at the bottom, measure up about1 " and remove ½ " – ¾ " of insulation from each conductor.This is where we will be attaching the coax.
From the splice measure up one side 16 ½" . CHECK THE MEASUREMENT TWICE. Cut a gap on this side about ¼" wide. Besure to remove the conductive material from the notch.
From the splice, re-measure the total length to 54 " andtrim the top.
Attach some coax to the opened area of the wire about 1 ¼"from the splice. The shield of the coax MUST connect to the notched side.
Attach a suitable connector on the end of the coax for your transmitter and GO!
March '13 – HF antennas for small spaces.
Most of us now get started on VHF with the Tech license, but very shortly afterward we feel the need to talk beyond the line of sight. HF is a GREAT part of the hobby. Radios, even 20 year old radios, have great specs, are solid state, usually have digital read outs and run on 12 Volts. You no longer need to have a table full of gear to have a very capable HF station. But the radio, and power supply are not a big issue. Your enjoyment of HF will be related to how well you hear and how well you are heard and that my friends comes down to ANTENNAS.
Keep in mind that smaller antennas are easy to hide, easy to put up and don't hear or transmit as well as longer wire antennas. Many of our members use hamsticks or other mobile whips set up on a mount on a balcony or in a window. They do work but are not very efficient. Adding a counterpoise (1/4 wavelength wire on the ground for the band of interest) will greatly help the performance of these mobile whips. Small whips give up bandwidth. You will need some form of antenna tuner for 75 and 40 meters and maybe for 20 meters.
I hope the Elmer's corner helps and if you have a question, send it to me and I'll do some research and provide what I can.
73 Rick / N4ASX