ALEXANDRIA RADIO CLUB FCC LICENSE SCHOOL



Coordinator: Rich Adamy, KA4GFY
ka4gfy@cox.net

DIGITAL REGISTRATION FORM
First Class Date:  Tuesday October 6, 2015 and ending December 8, 2015 (10 weeks).
The FCC Exam will be given last session in December.
Class Start Time: 19:00 hours until 21:00 hours ( 7 PM to 9 PM)
Teaching Site: Alexandria Police Department HQs, 3600 Wheeler Ave, Alexandria, VA (Just off Duke Street about 1 block west of Quaker Lane)
Cost: ARRL License Manual $30.00 + FCC Exam Fee $15.00 + Class Material $5.00 = $50.00

For additional information contact Rich at (703) 969-6615 or email.  Rich is assisted by cadre of founding faculty instructors who were electronic and communications specialist in local industry and/or military training centers.
FCC License Class Syllabus covers 400 question topics from which 35 pool questions make up license exam. Classes incorporates ARRL PowerPoint Topics & Film Clips portraying historical evolution of radio communications. License practice exam questions are Internet available.
Learning International Morse Code is NOT a FCC license requirement, but is highly encouraged.
FCC Title 47 Telecommunications Part 97 Amateur Radio Service Federal Regulations
(Up-to-date July 14, 2014)
ARC-SHORTS Newsletter
August 2015 Edition
Club Repeaters:  53.13 (-) , 147.315 (+) , 444.6 (+) , 224.82 (+) , 927.6 (-25Mhz), and 1282.600(+). All repeaters (PL 107.2)  DSTAR 145.38Mhz, 442.060, and 1284.600
ALL ARE UP AND RUNNING – HAM IT UP! Get on the air!
NEXT CLUB MEETING 
Our next meeting is August 14th at our normal location, 3600 Wheeler Ave, just off of Duke Street about half a block west of Quaker Lane.   The program is GO-KITS discussion  (Yes,  We had a surprise program and moved this one to August) 
If you have a go kit from a pack with handheld to mobiles with power supplies, now is the meeting to share your ideas and for others in the club to take note.  We will also review our Field Day this year.  One of the wettest I've seen. 
JULY MEETING MINUTES. 
Our July  meeting program was provided by Terry Hines N4ZH.  Terry is an expert in antenna design and provided a good program on stealth antennas that work.  
QSL CARDS 
One of the customs of Amateur Radio is to confirm a good conversation with a post card that in effect thanks or acknowledges the conversation on the air.  One needs to remember that only in the last 40 years have we had access to gear that you did not have to build.  Up until the late 1960s or early 1970s, most hams built their gear or converted commercial or military equipment. Translation, getting on the air took more effort than it does now.  So, when you operated and made a contract from a rare place, or with someone who provided an enjoyable conversation, it was customary to follow up with a QSL (Acknowledge) card. 
Additionally, contesting and DX gives us a reason to use the frequencies.  The idea behind contesting is to encourage the use of our bands so that the governments don't find a better use for them.  DX'ing or work distant stations tests you're and you're stations abilities.  To encourage DX'ing there a many awards but to earn these awards you must have some form of confirmation of the contact. 
Granted, DX contacts are mostly "DK3ABC this is W4ABC, your 59 in to Alexandria, VA, name is Joe" to which he replies "W4ABC your 59, QRZ…" which translates into I hear you – next! 
You can send QSLs for any reason.  Most of us don't send QSLs for local VH/UHF contacts, but if you work on VHF/UHF SSB over a fair distance they a card is nice and if you're going for VUCC, they cards are good, but if you talk to a club mate every day, sending a card each time might be expensive and a bit underwhelming.  
The most common DX awards are ARRL's DX Century Club awarded for working 100 confirmed DX contacts.  The first award is across all bands, then going for 100 on each band, then 100 on 5 bands.  A sticker is provided for each 50 additional contacts on each band.
To apply for a DXCC award (or Worked All States) you would normally send your QSL cards to the ARRL and they would review them and for a small fee, process the award you've earned.
                Another nice thing about QSL cards is that most amateurs here and around the world, put effort into making up a unique QSL card and sometimes will add a personal note.
We now have the ARRL's Logbook of the World (LOTW) which use to be a pain to upload to, but has gotten much easier recently.  If you use a computer logbook, you can convert your logged contacts to a ADIF file and upload to LOTW, The LOTW program compares your inputs to others and when it finds a match it confirms the contact, and you get the credit for various awards.  No QSL cards to buy, no postage, no SASEs, but no nice cards either.
QSL cards can be from cheap and simple (some can be made on your printer) to photographic cards.  As always, put yourself into the other guy's shoes.  If you get a cheap card with no SASE, you're not going to make up a card and return one rapidly.  For most DX contacts, the DX operator sees the US operator as wealthy.  Further, Postage in most DX entities is much more expensive than in the US.  A good looking QSL card will get you more responses then a cheap looking one.  Buying QSL cards is easy via the internet.  I use G&G Lithography, but printers all over the world have both standard cards and can make custom cards.  My card is a standard card with my call sign and location added.  If you want to spend the cash you can send them artwork or a photo and they can print your card your way.  Usually, on the back of the card you can add a standard form for providing the needed QSL info from your log.  Getting the cards back is lots of fun.  LOTW will serve for awards, but it's nice to have a card from French Polynesia with the lady in the grass skirt, or the aerial picture of Midway Island. 
If you want a card back quickly you should send directly to either the station or to his or her QSL manager.  Include funds for return postage and an SASE as well as your card.  If you just want to send a card cheaply and don't care if they return one, you can go via the ARRL out-going QSL bureau.  They charge by the pound.  You take your cards, sort them by country prefix and send them in with a few bucks, they send them to the other countries in-coming bureau and then volunteers sort and mail them locally to the stations.  We also have an incoming bureau.  It can take a year or so to get one back this way.
                Bottom line,  the custom of sending and receiving QSL cards is still an important part of amateur radio and it's a great way to remember those rare and memorable QSOs. 
73 Rick N4ASX 
President's Corner – 
During our last ARC meeting, Ian (N8IK) did a great presentation on CW.  He provided CDs and learning materials at the conclusion of his presentation for those who would like to learn Morse Code.  Many present took the materials.  Based on subsequent reports on the weekly 2 meter nets, several people seem to be working at learning to code using those materials. 
Anyone who attended the last ARC field day would have noticed that Ian was logging many CW QSOs hour after hour after hour.  It seemed a shame that no one else could help share the load because hardly anyone else is qualified that was not already a band captain or otherwise engaged.  Hopefully that will change this year as people hone their coding skills.  I would hope that by next year we could have a half dozen or more who could log CW QSOs.  So here is the challenge.  Work on your skills and let us know how you are doing.  If you need help, Ian may have some pertinent advice to help you along!
_._   _._   …._   _._.   _…   ._..
73 Larry  KK4CBL 
Hamfests –
The next hamfest in our area is the Carrol County Tailgate Fest on August 16.  This year's event is at a new location, The Sportsmans  Hall Skating Rink in Upperco, MD.  The address is 15500 Hanover Pike.  It's a fairly short drive from our area.  
The granddaddy of them all, The Shelby Hamfest is September 5 at the Cleveland County Fairgrounds in Shelby, NC. Shelby is a bit of drive, but since its Labor Day weekend, there is a good reason to travel.  Its also the Roanoke Division Hamfest.  
If you don't mind an excuse to get to the beach, check out the Virginia Beach Hamfest on September 12.  Its located at the Virginia Beach Convention Center at 1000 19th Street.  You can get to it by taking I-264 toward VA Beach.  As you get closer to the oceanfront, you will see it on the right. The hamfest is the VA Section Convention.   
Training – 
We are on track to start our next class on October 6 and ending December 8.  If you know someone who wants to get into amateur radio, send them our way.  
Contests – 
Aug 15 and 16 – North American QSO Party, SSB.  Exchange is Name and State.  Work stations once per band. 
Aug 16 – ARRL Rookie Roundup, RTTY.   Exchange is your name and the 2 digit year you were first licensed.  
Aug 22 and 23 – Ohio QSO Party. Exchange is RST and State. 
Aug 22 to 24 – Hawaii QSO Party.    Exchange is RST and State. 
Aug 29 and 30 – W/VE Islands QSO Party.  All mode.  Exchange is RST and State. Work each island once per band and mode. 
Aug 29 and 30 – Kansas QSO Party. Exchange is RST and State. 
Aug 30 – North American SSB Sprint. The exchange is the other station's call, your call, a serial number, your name and your state.  It's not as bad as it sounds, once you get into the swing of things, it goes quickly.  Since this is a sprint, it only runs from 000Z to 0400Z.
Sep 5 and 6 – Colorado QSO Party.  Exchange is your name and state. 
Sep 6 and 7 – Tennessee QSO Party.  Exchange is RST and State.  Work TN counties once per band.  
Club Repeaters – 
The Alexandria Radio Club owns more repeaters than other club in the area.  We have repeaters on every ham radio band between 6 meters and 23 cm.  Here is a great opportunity to try a new band.  With the exception of the 23 cm repeater, all our repeaters are commercial grade equipment which should run for many years with minimal work.  The 23 cm repeater is constructed from 2 Yaesu 23 cm mobile radios with a controller in between.  All the repeaters provide good coverage in Alexandria and the surrounding area. 
The 1.25 meter repeater audio problem and the interference on the 23 cm repeater have appeared to correct themselves. 
Thanks to Craig, K4GOR and Randy, WB4MJF, the 6 meter repeater is back to operating normally.  A faulty cable was the culprit.  Lesson learned, always check your cables when you have a problem.  Cables are an easy repair.  Transmitters are bit more involved. 
Ham it up and get on the air. 
73, Rich, KA4GFY 
Future Programs 
July – Terry Hines – Go Kit SHOW and Tell. Antenna modeling (Tentative), Field Day lessons learned, Ian on CW.

August – Homemade antennas.

September – Members share their insights on LOGGING and RADIO CONTROL programs.

October – Digital / Mobile HF

October – Mobile HF

November – Club Elections

DECEMBER  – Holiday party and club awards

 
If you have an idea for a program, please let Rick know and he will try to find someone to provide the program. 
Social Events 
Monday Night Half Price Burgers – There is a group that gets together at Shooter McGee's (Duke and Paxton Streets) on Monday evenings at 6:15 PM. A good burger and soft drink runs about $11.00. 
A few years ago,  a bunch of us went to the Air and Space Museum at Dullas,  is there an interest in another trip (Yes, I know it's not radio).  We can also plan for a trip the antique radio and EW museums.
 EVENTS PLANNED FOR AMATEUR RADIO ENTHUSIAST
Amateur Radio Roundtable,
a new series of W5KUB.com live weekly webcasts.  The webcast is every
Tuesday night at 9:00 PM EDST
 (0200 UTC Wednesdays) at
W5KUB.COM
. To watch click on Live Events and sign in with your existing User Name and Password.
Amateur Radio Roundtable is an informal discussion of all aspects of ham radio with the intent of allowing viewers to watch this live webcast or be a guest via Skype or Google Hangout.  A question and answer session with viewers will follow each topic.
The show covers all aspects of ham radio; such as, balloon launches, Satellite, go-kits, emergency communications, SDR, digital modes, DXing, home brewing, and much more. This week's guests include Arnie Shatz, N6HC, a team member of many great DExpeditions; Eric William discussing SRD; and Franc Dunatov, ZL1SLO, discussing Special Event operations from New Zealand.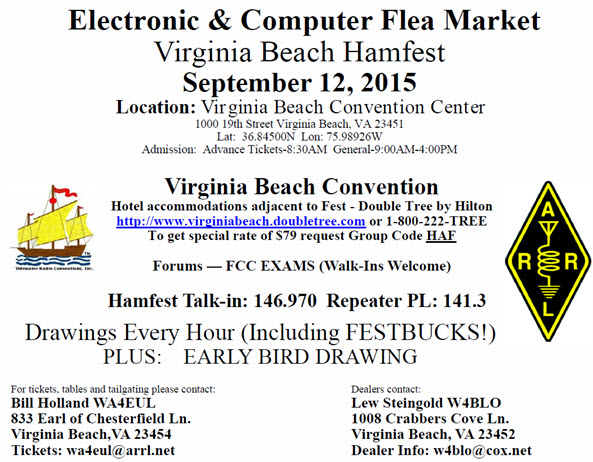 WEEKLY NET REQUEST:
Be sure to copy and submit the practice emergency message each week.
Sample format