ALEXANDRIA RADIO CLUB FCC LICENSE SCHOOL



Coordinator: Rich Adamy, KA4GFY
ka4gfy@cox.net

DIGITAL REGISTRATION FORM
First Class Date:  October 2015 and ending December 2015 (10 weeks).
The FCC Exam will be given last session in December.
Class Start Time: 19:00 hours until 21:00 hours ( 7 PM to 9 PM)
Teaching Site: Alexandria Police Department HQs, 3600 Wheeler Ave, Alexandria, VA (Just off Duke Street about 1 block west of Quaker Lane)
Cost: ARRL License Manual $30.00 + FCC Exam Fee $15.00 + Class Material $5.00 = $50.00

For additional information contact Rich at (703) 969-6615 or email.  Rich is assisted by cadre of founding faculty instructors who were electronic and communications specialist in local industry and/or military training centers.
FCC License Class Syllabus covers 400 question topics from which 35 pool questions make up license exam. Classes incorporates ARRL PowerPoint Topics & Film Clips portraying historical evolution of radio communications. License practice exam questions are Internet available.
Learning International Morse Code is NOT a FCC license requirement, but is highly encouraged.
FCC Title 47 Telecommunications Part 97 Amateur Radio Service Federal Regulations
(Up-to-date July 14, 2014)
ARC-SHORTS Newsletter
June 2015 Edition
Club Repeaters:  53.13 (-) , 147.315 (+) , 444.6 (+) , 224.82 (+) , 927.6 (-25Mhz), and 1282.600(+). All repeaters (PL 107.2)  DSTAR 145.38Mhz, 442.060, and 1284.600
ALL ARE UP AND RUNNING – HAM IT UP! Get on the air!
NEXT CLUB MEETING 
Our next meeting is July 10th at our normal location, 3600 Wheeler Ave, just off of Duke Street about half a block west of Quaker Lane.   The program is SHOW AND TELL your GO-KITS
If you have a go kit from a pack with handheld to mobiles with power supplies, now is the meeting to share your ideas and for others in the club to take note.  We will also review our Field Day this year.  One of the wettest I've seen. 
Ian, N8IK will talk about an easy way to learn CW.   
JUNE MEETING MINUTES. 
Our June meeting program was provided by Jack, K5OTZ on our Field Day set up.  More on how that went later.   
We did discuss replacement of the receiver side of our 23cm repeater.  We are one of the few clubs that has a 23cm repeater in addition to our 900 MHz repeater.   
The GO KITS Challenge. 
Our next meetings program is GO KITS!  It's a time to share ideas and show off what your ham radio ingenuity has created! 
For all who volunteer for ARES or for public service, you will soon find that getting all your gear together can be a stressing issue and the risk of forgetting something is greater.
The cure is generally to have a list or if you have the gear, make up a grab and go kit.  Hence GO KITS.  These vary with the type of operation, the time you expect to operate and how what the event requires.   
Always make up a list first.  If you're new to the hobby and all you have is a handheld radio, then, because you are using your handheld all the time, you cannot put it in a go kit, but you can make up a list, have a pack or a bag to put it in.  If you plan to operate from a stationary position, you may want to move up to a box with a mobile radio.  If you only have ONE mobile radio then picking up a second mobile bracket would allow you to move the radio to a go box, but with the use of a mobile other items need to be added.  What antenna do you need?  For many operations a magnetic mount is good, an arrow J-pole works well and can be mounted about anywhere.  If you need more range then a mast kit can be made from a painters pole or get military surplus mast kits cheaply at hamfests.  With an antenna a length of coax with the correct connectors is needed.  You then want an adapter to match your handheld to the antenna cable.  How about power? With your handheld you have the battery and newer handhelds have long life batteries, but a spare is always good.  Even for handhelds an external power pack is a good idea.  One can make up a 12 volt pack with D cells,  If you have the funds a small sealed lead acid rechargeable battery may be a good choice and can be sized to run a mobile.  A popular battery is the U1 size that usually provides 30Amphours or so. Some folks bring an old car battery which can provide from 60 to 100 amphours.  Larger batteries last longer but weigh more.  One point on batteries for mobiles,  Some radios will not work well if the voltage falls much below 12 volts (ICOMs are famous for that),  two or three companies make booster, but that is added cost both in dollars and amphours available.  For a mobile go kit,  I use a box where I can use the mobile mount for the radio(s),  have a power distribution box so I can plug in and charge my handhelds or run a 12 volt computer power supply, if needed.   
The go kit is more than the radio.  On your list you need a book with the operational information which should include details on assignments, frequencies,  locations, times,  whom your dealing with etc.  You may also want some sections of your radio's owner's manual should you need to do some radio set up.  You should also think about paper for logging, message forms, a clip board, a way to keep the paperwork dry etc.  Flashlights may be a good idea if you're out early in the morning or late at night.  How about personnel comfort?  A lawn chair, small card table may be a good idea. 
So,  I start with a list which has RADIO, OFFICE, COMFORT, TOOLS and PAPERWORK.  If I'm only using a handheld, think batteries, antennas, speaker mic and ear phones.  If I'm working the MCM aid station,  I need THREE mobile radios, two antennas, two lengths of coax cable,  a LARGE battery, (MCM will have AC power so I have a power supply in the box.) 
The bottom line, not so up front, is proper planning limits problems at the last minute, reduces stress and reduces the time it takes to be ready to go.   
Bring your GO KIT to the JULY meeting and let us know YOUR approach. 
73 Rick
N4ASX (Emergency Coordinator ARES Alexandria) 
HOW TO VOLUNTEER FOR Amateur Radio Emergency Services (ARES) 
In the past, you filled out the form, gave it to the Emergency Coordinator (EC) and you were a member.  Now we ask (not required) to complete FEMA independent study classes: IS100, IS200 and IS700 as well as fill in a City background check form.  The background check is required if you are going to work in the Emergency Operations Center (EOC) or in a Red Cross shelter.  Fill out ARRL ARES form and provide your certificates and you're a member.
Being a volunteer is just that.  No commitment is made, but your volunteering means that the EC will call you if we are asked to assist the City, or other agency in time of an emergency or for various public service events. 
President's Corner – 
Our Field Day Chairmen, their band captains and several assistants really outdid themselves for Field Day 2015.  Radios and antennas were all strategically placed to minimize cable runs and accommodate multiple operators.  Tarps were hung around the shelter to shield equipment during the storms.   The plan (according to Chairman Jack) was to get on the air quickly and get as many contacts as possible before the storm hit.  Fortunately we only had one 30 minute period where we had to actually shut down operations because of lightning associated with the storm.  The food prepared by Chef Wagner was again excellent.  Joseph Hensley Park once again proved itself a superior location and the shelter provided operators protection from the rain.  Hopefully the city will continue to provide this facility to the Alexandria Radio Club in the future.  Kudos to all who came out and participated.
Finally, many thanks to Craig Church who fixed our 6 meter repeater.  We are fortunate to have so many great repeaters but they don't continue to operate without dedicated maintenance by people like Craig who have to take time from their busy days to assure operation continues.
73 Larry  KK4CBL 
Hamfests –
The next hamfest in our area isn't until August 2.  The Shenandoah Valley Amateur Radio Club will be holding their 65th annual Berryville Hamfest.  Its at the Clark County Ruritan Fairgrounds right off Route 7.  It's a great location under the trees and the barbeque lunch makes the trip that much better.     
Training –  
We are on track to start our next class on October 6 and ending December 8.  If you know someone who wants to get into amateur radio, send them our way.   
Contests – 
July 11 and 12 – IARU HF World Championship.  HF bands 160, 80, 40, 20, and 10 meters.  Both CW and SSB.  Exchange is RS(T) and ITU zone.  We are in zone 8. 
July 18 and 19 – CQ Worldwide VHF Contest.  VHF bands 6 and 2 meters.  Exchange is your grid square.  We are in grid square FM18.  
July 25 and 26 – RSGB  Islands on the Air Contest.  Both CW and SSB.  HF bands 80, 40, 20, 15 and 10 meters.  Exchange is a serial number.  Work each station once per band. 
Aug 1 – North American QSO Party – CW.   HF bands 160, 80, 40, 20, 15 and 10 meters.  Exchange is your name and state. 
Aug 1 and 2 – ARRL August UHF Contest.  Both CW and CW.  All UHF bands 222 MHz and up.  Exchange is grid square.  We are in FM18.  Work stations once per band. 
Aug 8 and 9 – Maryland/DC QSO Party.  HF bands 160 through 10, VHF 6 and 2 meters and UHF 70 cm.  Exchange is your station class and state for non MD/DC stations.  Most of us will be "standard" stations.  If you are running QRP or mobile, you can claim QRPO or mobile as your class.  Work stations once per band and mode.   
Club Repeaters –  
The Alexandria Radio Club owns more repeaters than other club in the area.  We have repeaters on every ham radio band between 6 meters and 23 cm.  Here is a great opportunity to try a new band.  With the exception of the 23 cm repeater, all our repeaters are commercial grade equipment which should run for many years with minimal work.  The 23 cm repeater is constructed from 2 Yaesu 23 cm mobile radios with a controller in between.  All the repeaters provide good coverage in Alexandria and the surrounding area. 
Thanks to Craig, K4GOR and Randy, WA4MJF, the 6 meter repeater is back up and sounds GREAT!  Six meters is a great band with great range compared to 2 or 70cm.  Many of us have HF mobiles that also work on 6 meters.  Our net on 6 meters is right before our weekly 2 meter net (7:30PM local) on the 53.13 (PL107.2 -1Mhz standard offset).  Give it a try.
Our 220 Mhz repeater is up but audio may be a bit down, turn up the volume and give it a try.
The repeaters may sound dead, but may of our members listen without marking up.  Want a conversation?  Just drop your call "KA4GFY Listening"  you might be surprised.
Ham it up and get on the air. 
73, Rich, KA4GFY 
FIELD DAY
2015 Field Day in Alexandria
Jack K5OTZ
Rick N4ASX 
This year's Field Day was held by the Club at Joseph Hensley Park. We sat up in the rain on Saturday morning – 10/15, 20, 40, and 80 antennas. Many thanks to those who came out to held. Our Team Leaders were:  
15/10M Phone __K3VW__ Kenwood TS450S

20M Phone __N4CWP_Yeasu FT-920

40M Phone ___N8IK_ ICOM IC-746

75/80M Phone ___KA4FGY_TT Jupiter

 
We used Club radios and made around 600 contacts. A special thanks goes to Steve (W8RJH) for 24-hours of food. And, of course, Ted (W9TCE) for his lemonade. We had several new Club members getting on HF for the first time. The official count was around 45 people, many of whom spent time on making contacts. And, as per usual there was time to chat with Club members. Look at the webpage for photos of a great Field Day.
Rich, KA4GFY, collected the logs for each of the our stations and will have a score for us soon. 
At set up and start we had a great member turn out.  The only problem was that we only had four operating stations.  We should talk about how we can bring members in to operate throughout the 24 hour period without making assignments.  The best part of Field Day is the comradery. 
Future Programs
July – Terry Hines – Go Kit SHOW and Tell. Antenna modeling (Tentative), Field Day lessons learned, Ian on CW.

August – Homemade antennas.

September – Members share their insights on LOGGING and RADIO CONTROL programs.

October – Digital / Mobile HF

October – Mobile HF

November – Club Elections

DECEMBER  – Holiday party and club awards
 If you have an idea for a program, please let Rick know and he will try to find someone to provide the program.
Social Events
Monday Night Half Price Burgers – There is a group that gets together at Shooter McGee's (Duke and Paxton Streets) on Monday evenings at 6:15 PM. A good burger and soft drink runs about $11.00.
A few years ago,  a bunch of us went to the Air and Space Museum at Dullas,  is there an interest in another trip (Yes, I know it's not radio).  We can also plan for a trip the antique radio and EW museums.
 EVENTS PLANNED FOR AMATEUR RADIO ENTHUSIAST
Amateur Radio Roundtable,
a new series of W5KUB.com live weekly webcasts.  The webcast is every
Tuesday night at 9:00 PM EDST
 (0200 UTC Wednesdays) at
W5KUB.COM
. To watch click on Live Events and sign in with your existing User Name and Password.
Amateur Radio Roundtable is an informal discussion of all aspects of ham radio with the intent of allowing viewers to watch this live webcast or be a guest via Skype or Google Hangout.  A question and answer session with viewers will follow each topic.
The show covers all aspects of ham radio; such as, balloon launches, Satellite, go-kits, emergency communications, SDR, digital modes, DXing, home brewing, and much more. This week's guests include Arnie Shatz, N6HC, a team member of many great DExpeditions; Eric William discussing SRD; and Franc Dunatov, ZL1SLO, discussing Special Event operations from New Zealand.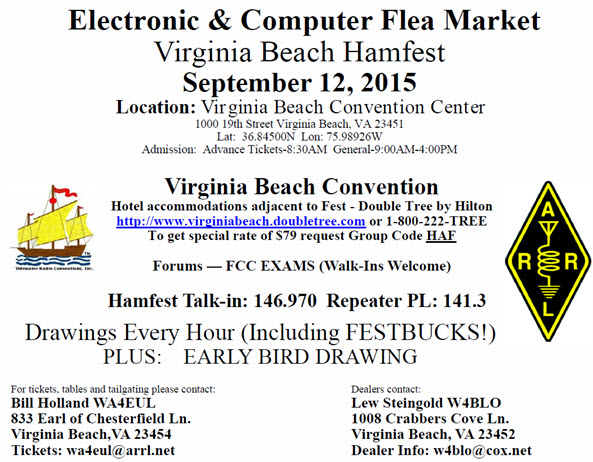 WEEKLY NET REQUEST:
Be sure to copy and submit the practice emergency message each week.
Sample format